The way to Fairy Meadows
Probably one of the most touristy spots of Pakistan, normally we would ignore places like this and skip them. However, friends told us it's definitely worth it so here we are, sitting in a jeep on a steep mountain waiting for people to clear a landslide. It just happened, the huge ass rock falling from above on to the road. Luckily no one got injured! So while we wait here I can try to describe the road.
We often believe Alexine can do anything, like I love to believe I can do anything. Alexine in Wonderland being a big inspiration for me. But, some things are impossible. Like, having Alexine drive up this insane road. 
The road is steep. Sand and stones everywhere and grip nowhere. A 4×4 is mandatory here and also a fearless driver. Luckily we have both. Our driver Najib is a young man who does think he can do the impossible. Driving this insane road while calling for example. And I'm in the back jumping from left to right, up and down, barely able to hold on. My whole body in motion as if I find myself in a washing machine. I can't think about anything because my brain is occupied holding on to my skull. And while my brain is holding on my heart is having a break. Blood is pumped through my body while the car shakes with every stone it hits. The corners are so tight I'm surprised that even this old car can handle it. And it does so with ease. 
We are sitting in an old jeep and it's handling the steepness of the road as if it is a tarmac highway. I know oldies are performers but this one even impresses me. While the shaking continues I'm thinking of buying one and already renovate it into a overlanding vehicle. Najib turns the volume up, Pakistani music is now blasting through the speakers. No counter on the dashboard works, we've been driving 20km/h when no gasoline for a while now. According to the meters that is. I wonder if Najib knows how much gasoline there is left. This road doesn't look like a road where we'll find many gasoline stations. Well, for now we don't have to find anything except for a shovel to get the rock out of the way. 
Ten minutes and we would continue our journey they said. Well, thirty minutes later and we're still waiting. One big rock after the other are thrown over the side of the road. It was quite the big landslide and now the locals are doing their utmost best to free the road so transportation can continue. It's not only tourists that go here, it's locals as well. There are villages up there in the meadows. It always surprises me that humanity is found everywhere. Even in the most hostile places like Antarctica and meadows and valleys difficult to reach. 
Fairy Meadows, locally known as Joot, is a grassland near one of the base camp sites of the Nanga Parbat, located in Gilgit-Baltistan, Pakistan. 
At an altitude of about 3,300 metres above sea level, it serves as the launching point for trekkers summiting on the Rakhiot face of the Nanga Parbat. In 1995, the Government of Pakistan declared Fairy Meadows a National Park.
The dangerous and narrow gravel mountain road to the village is only open to locals, who provide transportation to visitors. In 2013, the World Health Organization declared it the second-deadliest road on the planet.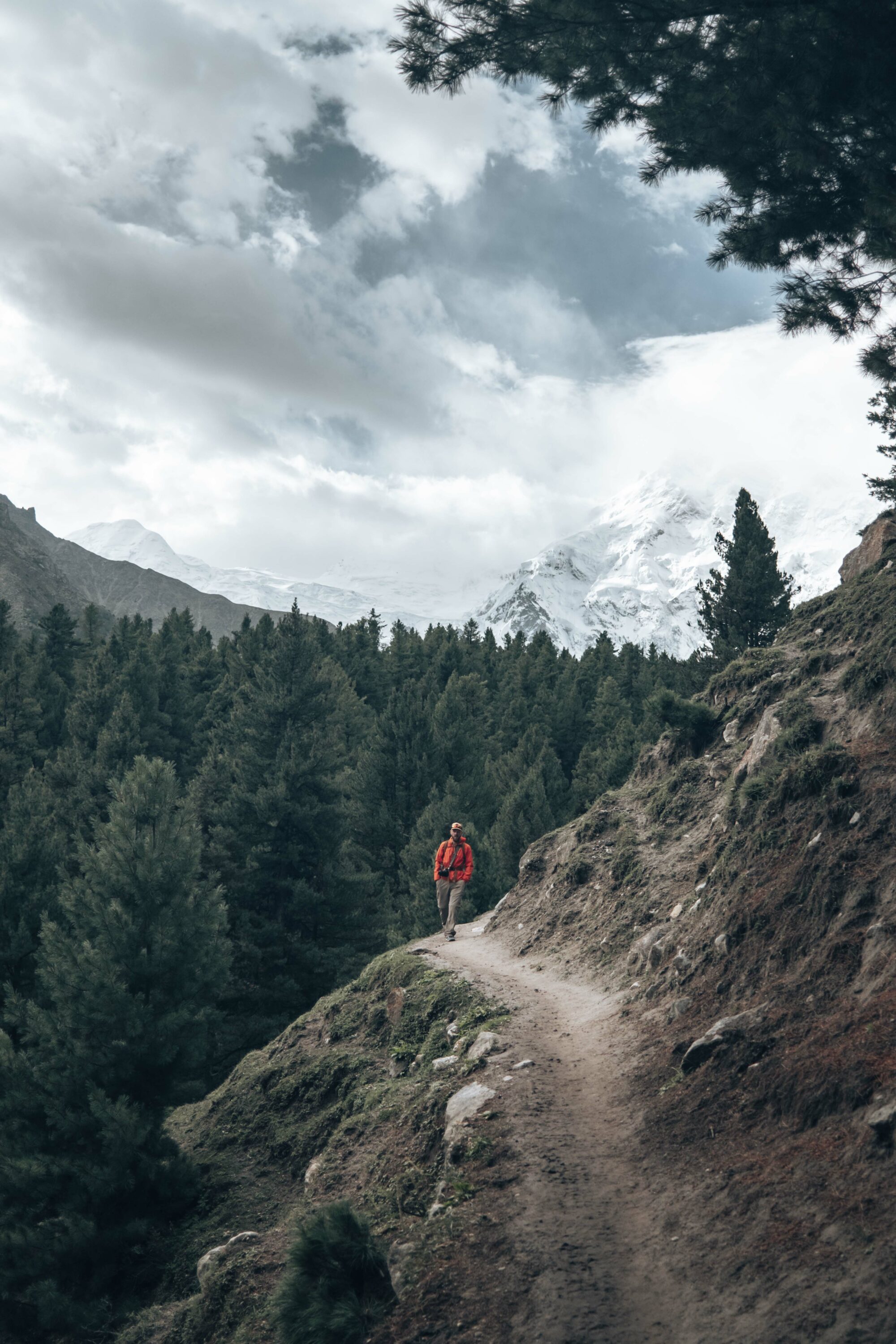 I say difficult to reach because the jeep can't go there. It's a two hour jeep ride over this quite dangerous yet stunning road. Then, it's a two to three hour walk to the fairy meadows, and if you really want to visit a nice place you continue one hour to Beyal. A bit less touristy and apparently just as beautiful if not even more beautiful. Sometimes we plan things and sometimes we don't. This time we have absolutely no idea what we are getting ourselves into. As it's quite a touristy destination we think it'll be all fine as many have flatten the path before us. However, I've got no idea if the hike is easy, how many altitude meters we'll be climbing, what to expect from the hike. We are of course not prepared for what's to come. I forgot my water bottle and Yuri forgot the apples. So we have to hike two hours on some dried apricot and 500ml of water, the both of us. It's going to be fantastic I'm sure 🤣 I guess when we reach Fairy meadows we're death tired and just sleep in a hotel there and continue the next day to Beyal. 
Times running as well. We're still waiting for more rocks to be thrown off the cliff. Then we have at least one more hour of shaky jeep ride and then a two hour climb to the meadows. I'm sure they don't have beer there but oh my do I crave for a beer. Oh and I'm sure I can write 'we' here. A nice cold beer at the end of a tiring trek in the mountains is like a cherry on top of a cake. Here not an ice cold beer but the views will be the cherry. Oh and probably a delicious Pakistani lunch, without too much oil hopefully. 
Let me check on the progress of the rock throwing (should be a local sport) after which we'll probably drive in colonne to the end of the track. 
Finally, they cleared the road and we continue. And if I thought I was shaking before I was wrong. A couple of times I fly in the air so my head bumps into the roof and I feel the muscles in my arm screaming for a break. But there is no breaking, there is just shaking and squeaking of the car. The road worsens if even possible and my whole body gets shaken, not stirred 😉
After a while we finally reach the end of the road, time for walking.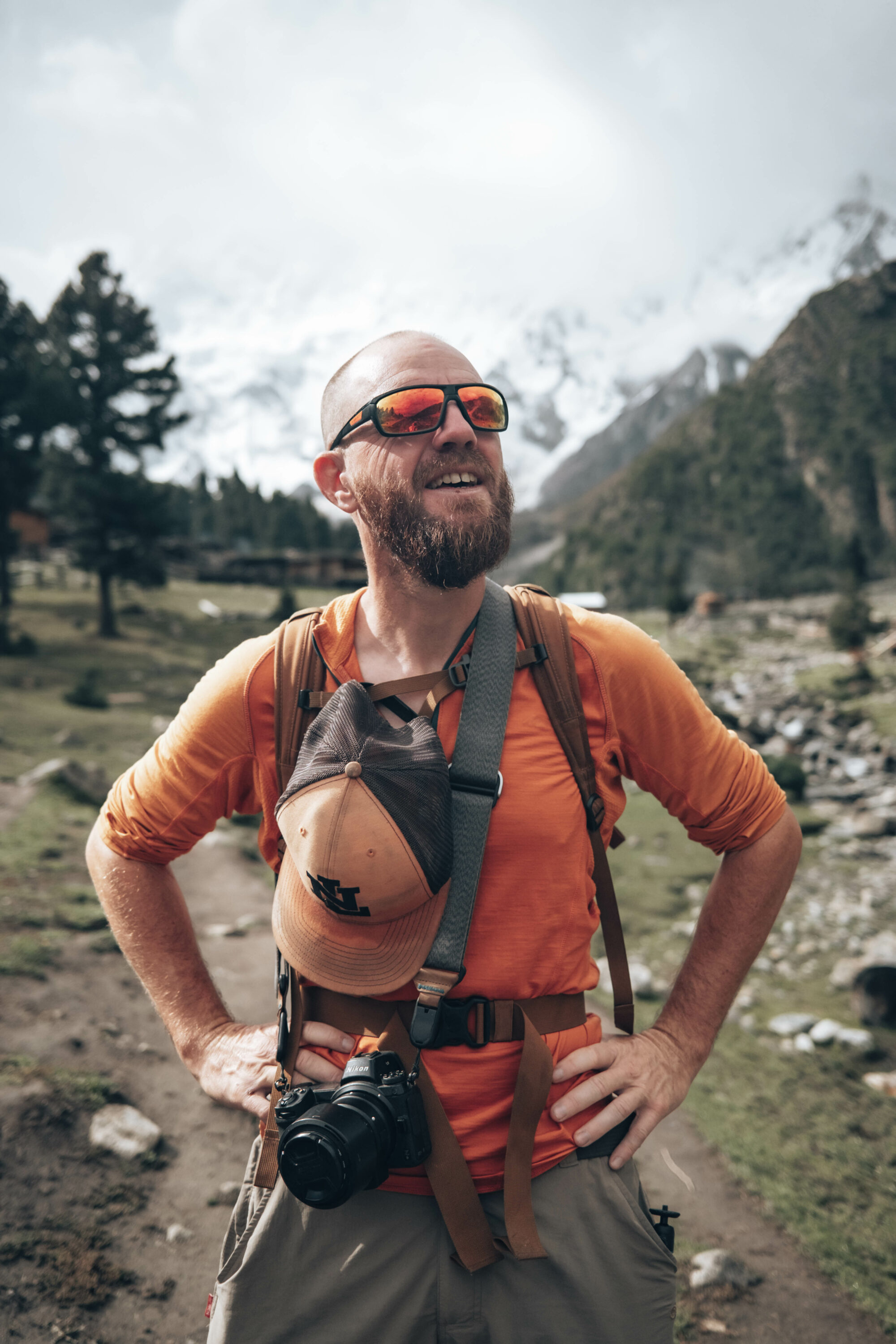 We say goodbye to Hussain (yeah Najib changed into Hussain half way the journey). And here we start the hike. As said before we are very well prepared; no water, no food. So we buy some cookies and leave all the tourist guides and shops behind and start the hike. And we have no idea about the hike which is kind of okay. No idea how much the elevation gain, where the path goes to and what we'll find in the end. We are even debating the difference between meadows and valley. 
But the path is easy to find. Steep but easy. We are not experienced hikers, we are lowlanders, Dutchies who are living below sea level and find every mountain a challenge. But we love mountains and we love challenges so we just go. With our flow, which is a lot slower than the porters we see on the way but a lot quicker than those locals who rented a horse to bring them to the meadows. Yeah, you read that right. Horses! So it's possible to rent a horse and a porter and be a lazy tourist. 
We've seen quite a few of those. Mostly Pakistani tourists. "I don't like domestic tourists because they don't care" a hotel owner we meet on the way tells us. And they 'not caring' is visible on the way up. Here and there we find waste thrown in nature; plastic bottles, chocolate wrappers and more is found on the side of the pathway. It makes it a lot less idyllic to walk here. As do the tourists that come down from the meadows. Boys on slippery sneakers and sweatpants walk down slowly holding each other's hands while young boys (porters) hike behind them with their bags. One boy even carries three of their backpacks. I'm proud of myself carrying my own backpack, which looks great but is not handy for hiking. Normally I can handle a backpack for an hour or so before my back starts hurting. The perks of living with sculiose. But this time I'm doing alright. I have no idea how but it's going well! 
The hike is steep though and Yuri has some troubles. Normally he's like a mountain goat enjoying the hike but now he's quickly out of breathe. Is it the heigh? Possible. Or just the mere fact that we've been sitting and driving the van for way too many hours instead of doing some exercise. I'm going slowly but steady, try to keep my breathing as normal as possible and place one foot in front of the other. It's not a difficult hike and we soon reach half way. From here it's just a little more up and we arrive at the meadows.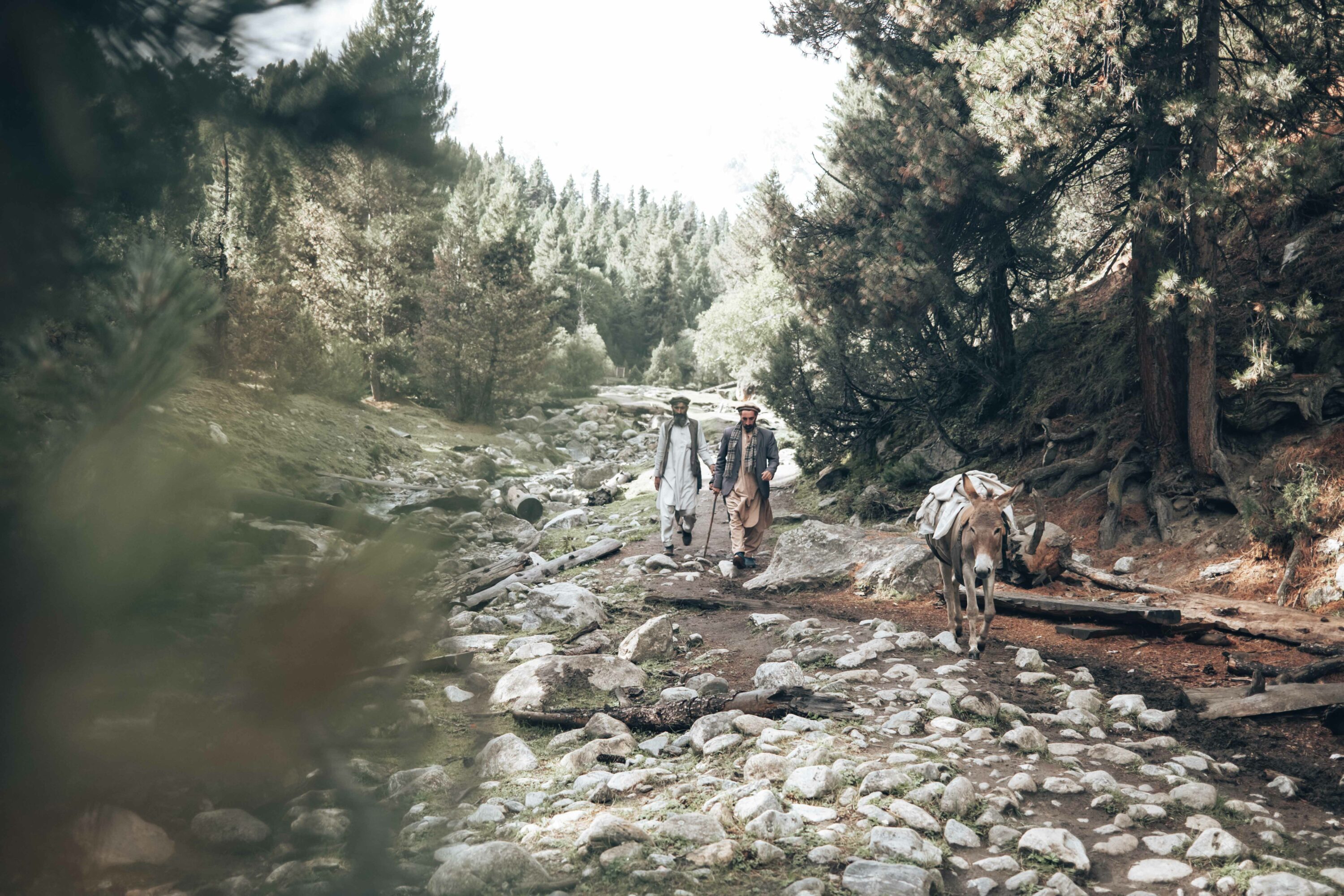 The fairy meadows is anything but fairy. It's not majestic at all, although the view on Nanga Parbat is. Wherever you look there are chalet like buildings and they are even building more. We knew it would be touristy but this is a shock to both of us. It's like a ski resort in the Alps. Wooden chalets and hotels cover the open meadows and a muddy road goes from hotel to hotel. Some children run towards us in the hope to sell some snacks or their service. We need neither. We walk up to one of the hotels and ask for some warm chai. It was raining so everything got wet and we got a bit cold. A warm chai will definitely help warming up.
Or so we thought. Hiking a mountain in the rain is nice, you're warm and the rain cools you down. But once you sit down in a big room with wet clothes and no heater to warm up you're cooling down. A cup of chai is only doing so much. Because we only stay here for two nights and didn't want to carry a lot of weight we didn't bring any dry clothes nor a sweater. I'm regretting my decision right now. 
A warm shower would help! But that takes a while, one hour to be precise. So I'm now in bed trying to get warm below the bedsheets. Up to now it's not going very well so I might do some jumping jacks. The biggest problem is our wet clothes, they won't dry as well. From such a touristy place I would've expected a bit more. The rooms are also quite expensive so a heater would've been nice. The hut is build of wood and I can see Nanga Parbat from the KIEREN in the walls. The sun is nowhere to be found and clouds cover the top of the mountain.
We have not seen the K2, not the K1 or any of the K's for that matter, but we are seeing the Killer Mountain: Nanga Parbat. And even though the room is cold and there is no heater I'm sure we have one of the best views on the mountain that's almost impossible to climb. 
"Are you going to base camp?" One of the guys asks us and I wonder if he's blind. We don't really look like climbers. Seeing my expression he explains himself. "It's about three hours walk and not that steep not difficult". We look at each other and the idea of hiking to base camp enters our minds. We were planning on hiking to Beyal, the next camp, just because it's less touristy and it must be an amazing hike. That's about 1.5 hours. So if Base Camp is just 1,5 hours from there we might have a go at it. We have a full day tomorrow and haven't hiked in a while so it might be just want we need. 
However, my priority now is getting warm, have some food, finish my book and relax a bit. Tomorrow is another day, we'll see how we feel by then. 
Love, Milene & Yuri
When we thought we left chaos in Amritsar or at the border with Pakistan, nothing was less true. Chaos was either following us, or we following it, all the way to Kashmir.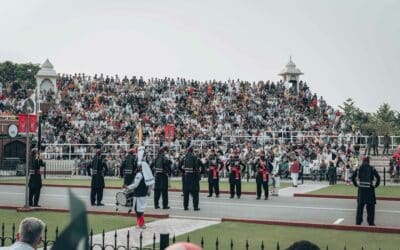 While tensions along the Pakistan – Indian border are still as high as ever, the ceremony taking place at the Wagah border makes it seem like a game.
We end our beautiful Pakistan trip in the heart of the country. Let's expLahore the city of culture, spicy food and history.