Nomads & Bears
The violent past of Pakistan seems very far away at Deosai National Park. It is one of the highest plains in the world, home to the nomadic Gujjar tribe in the summer and closed for everyone except wildlife in the winter. However, even here the past is never far away. 
The sun touches the tops of the mountains when I open my eyes. All else is covered in a blanket of dew. The marmots are still sleeping when I place my feet in my cold and wet flip flops. And while I walk through the wet grassy land birds are showing a first sign of life. The world is waking up and only the glacier water can be heard flowing gently through the meadows. I walk to the edge of the river and hear the glacier in the distance waking up. A roaring sound after which I suddenly see some tiny heads peaking out of holes in the ground. It ain't Bilbo Baggins but marmots. I entered their Hobbiton and they wonder who this stranger is. They look at me and I at them, once we establish we are no threat to each other, we both turn our heads towards the mountains in front of us and enjoy the early morning. It is so peaceful here that even though its just five o'clock I feel so rested and relax. 
There is absolutely nothing here but green mountains, a slow and calm flowing river and marmots. A glacier and white mountaintop in the distance. No planes flying over, no phone connection, no people. Absolutely nothing but nature. And we decide to go with the flow of nature. Waking up, reading a book, making some tea. The sun finally touches the van and everything warms up, also my toes which were freezing. The bees start zooming around us and the marmots get out of their home to have a stroll. Yuri is out behaving like a wildlife photographer while I read a book about the intriguing and somewhat disturbing past of Pakistan.
Cause as peacefully it is here as violent it was in the past. And that past repeats itself once in a while. These lands were once ruled by (surprising) British occupiers. Let's share a bit of the history of Pakistan shall we? 
Pakistan started by the partition of British India, in response to the demands of Islamic nationalists: as articulated by the All India Muslim League under the leadership of Mohammed Ali Jinnah. From independence (1947) until 1971, Pakistan (both de facto and in law) consisted of two regions—West Pakistan, in the Indus River basin in the northwestern portion of the Indian subcontinent, and East Pakistan, located more than 1,600 km to the east in the vast delta of the Ganges-Brahmaputra river system. In response to grave internal political problems that erupted in civil war in 1971, East Pakistan was proclaimed the independent country of Bangladesh. Read more here.
The East Indian Company in Pakistan
So, the East Indian Company ruled these lands for about two centuries when it became officially known as British India, which was controlled by the British government. However, lot of uprisings, protests and world wars put pressure on the British government and in 1947 there was a power change. British India split up into two countries: India and Pakistan. The two countries became independent at midnight of 15th of August 1947. 
Two headfigures of the Indian independence were Jawaharlal Nehru and Mahatma Gandhi. A third figure, Mohammed Ali Jinnah, campaigned for an own Muslim state. Muslims were the largest minority and therefore feared their position in Indian society. Nehru became the first president of India, Jinnah of Pakistan. 
However, as always with a change of power a lot of sectarian violence occurred. At the time of partition in 1947, as many as 10 million Muslim refugees fled their homes in India and sought refuge in Pakistan—about 8 million in West Pakistan. Virtually an equal number of Hindus and Sikhs were uprooted from their land and familiar surroundings in what became Pakistan, and they fled to India. Unlike the earlier migrations, which took centuries to unfold, these chaotic population transfers took hardly one year. The resulting impact on the life of the subcontinent has reverberated ever since in the rivalries between the two countries, and each has continued to seek a lasting modus vivendi with the other. Pakistan and India have fought four wars, three of which (1948–49, 1965, and 1999) were over Kashmir. Since 1998 both countries have also possessed nuclear weapons, further heightening tensions between them. 
The world knows so much violence, so much sadness. It's hard to read about the horrific past while being surrounded by the peace and quiet of nature. Oh and nature can be destructive and violent as well of course. Being eaten alive when you just hatched, having to fight another male just because it's in your nature, eating your own kids or husband just because… life on earth is harsh but I guess we humans have mastered it. 
For now Pakistan is kind of peaceful. The amount of snow leopards are increasing, more effort is pushed towards sustainability and environmentally friendly companies and cultures, like the Kalash, are being protected. And places like this; Deosai National Park are a treat to everyone who needs to get away from the crowd. It's not cheap though. The National Parks of Pakistan cost $20,- per person for foreigners (about 4.500 Rupees) whereas the locals pay about $1.5 (300 Rupees). That's quite a big difference. Not sure yet what they do with the money. The roads are quite bad so surely the money isn't going to infrastructure. We haven't seen rangers, we did see plastic trash. The wildlife is somewhat protected as hunting them is only allowed with a special license (which they call eco tourism here – sounds peculiar to me). So numbers of wild foxes, snow leopards, bears, wolves and Markhor (goat) are increasing in numbers. A good thing about this park is that we are allowed to stay overnight. $40,- for just a couple of hours would be a rip off. But now we can stay as long as we want. It's cheaper than a hotel 😉 
My feet are warm and I have made some tea for the way further into the park so we might get ready to move. It's gonna be tricky, a muddy road where passing others is a challenge.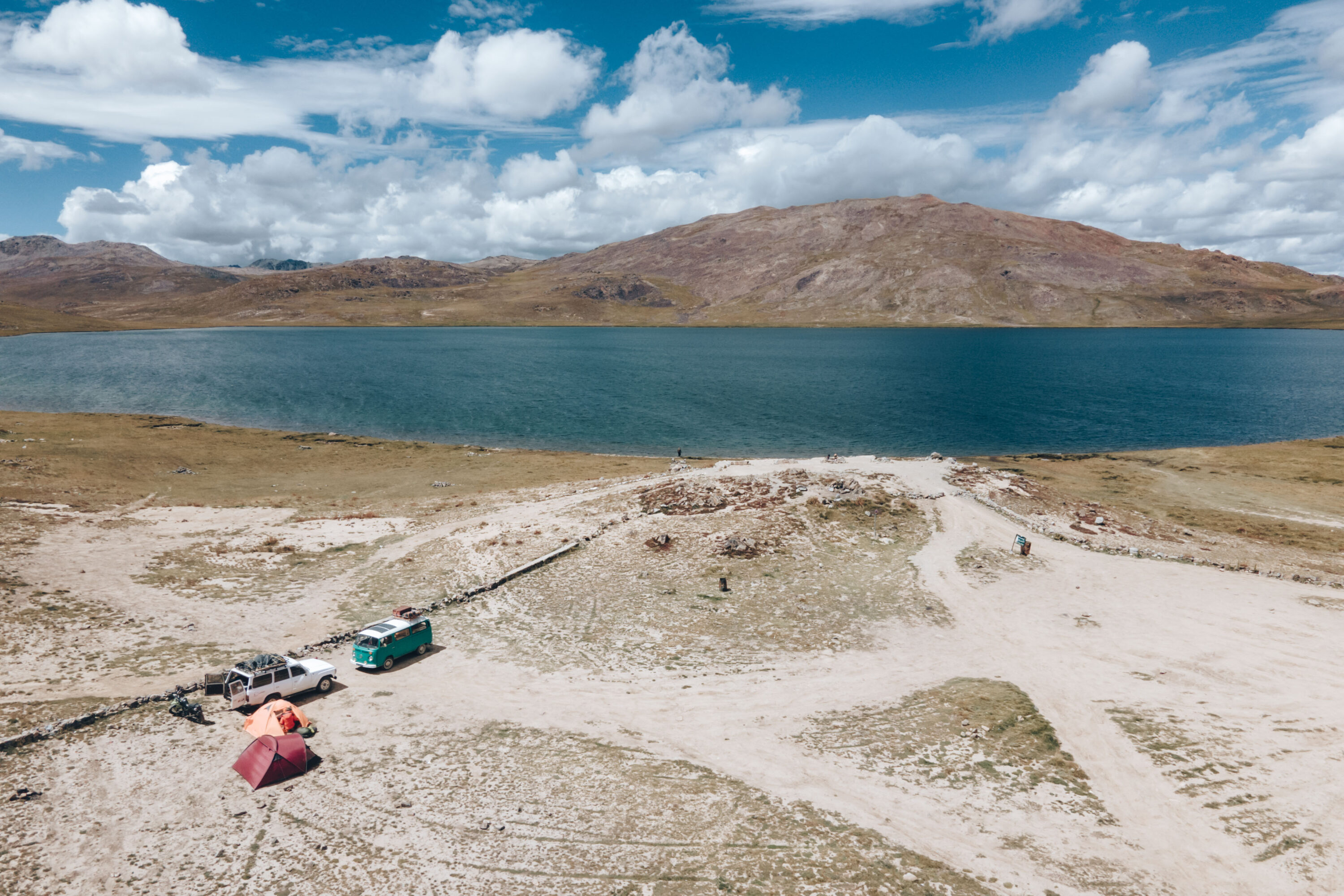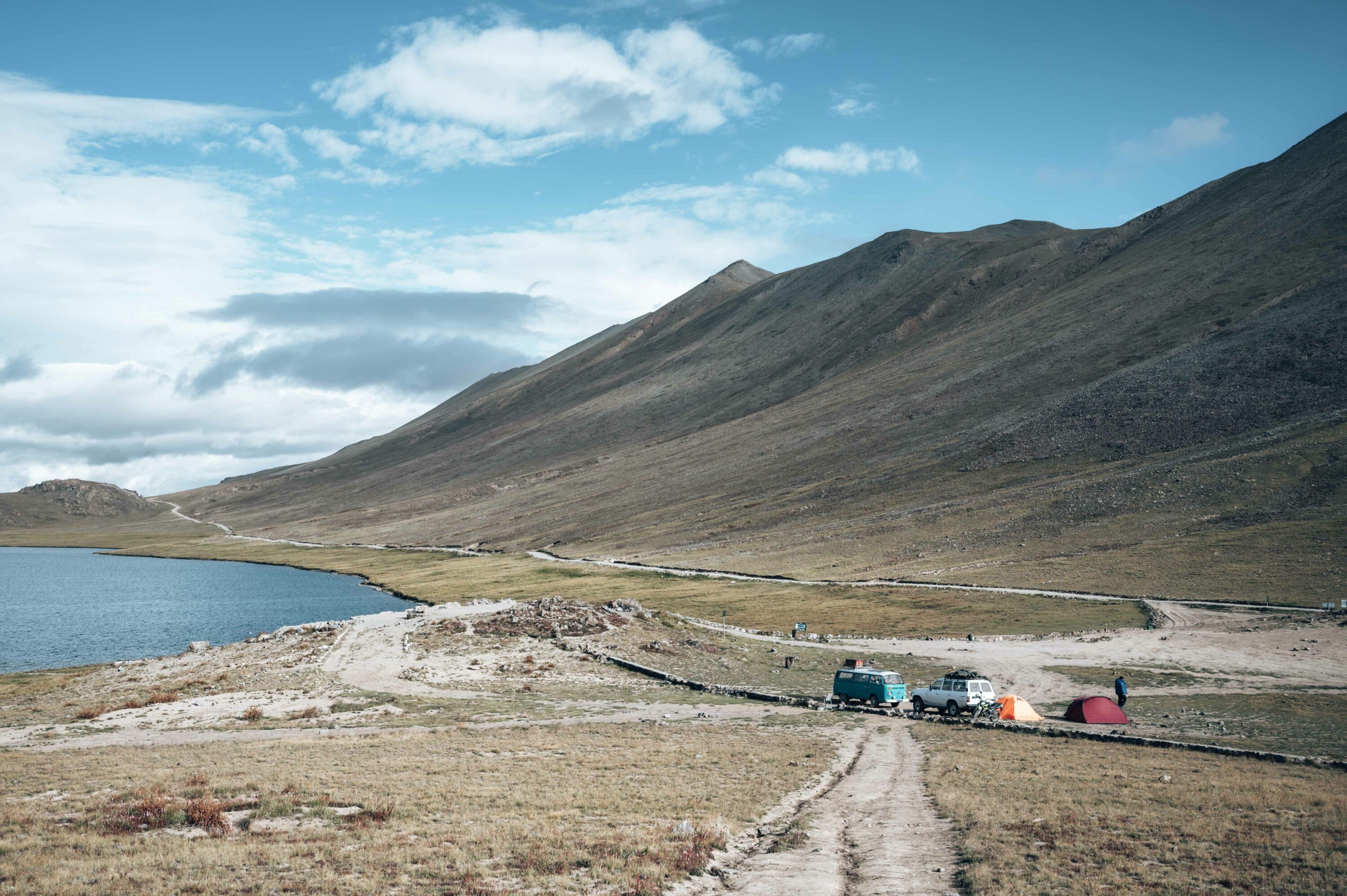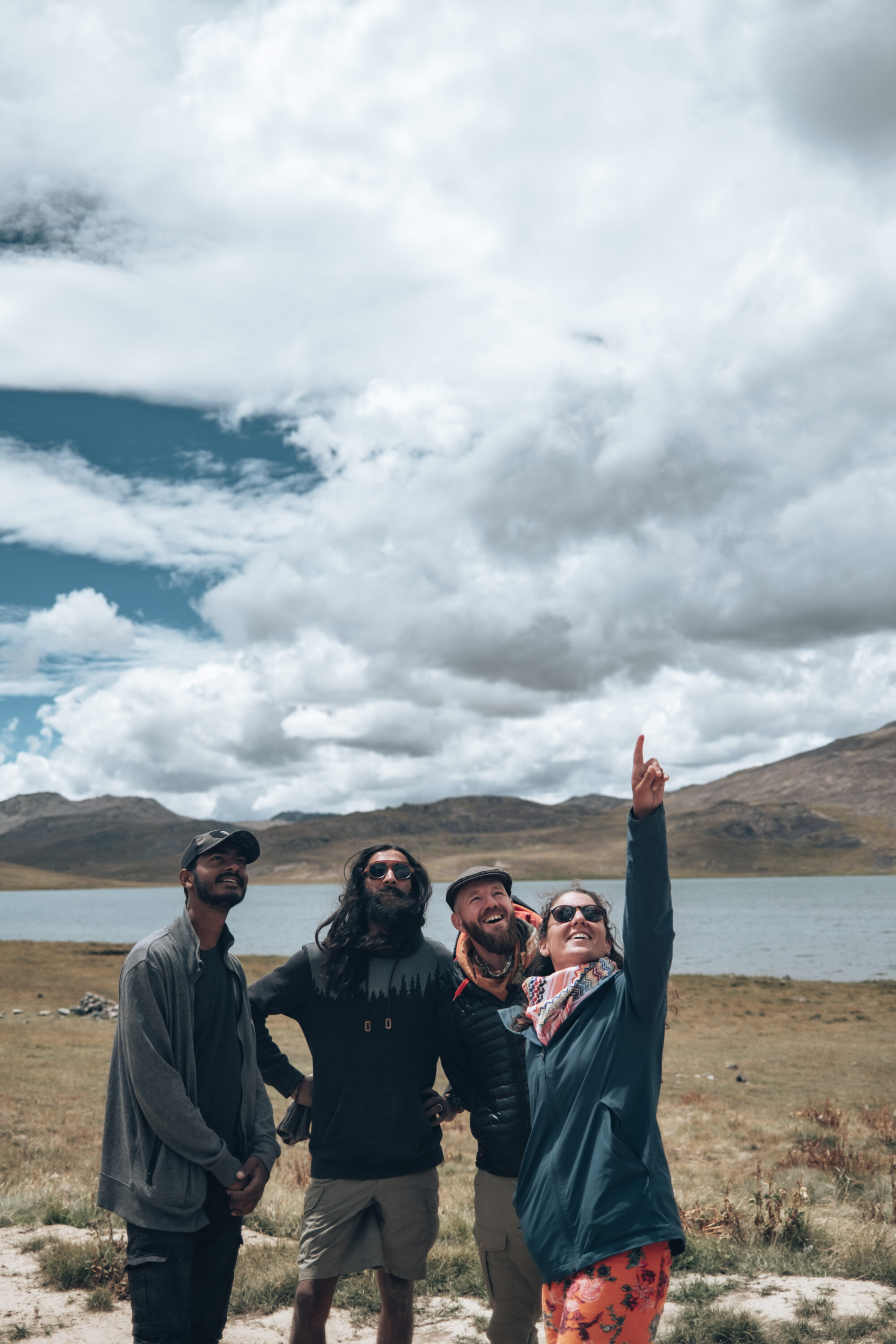 We continue the bumpy road to quite a touristy but also bear area. Apparently brown bears like to come here to scavenge for food left by tourists. And that's a lot apparently. We don't see any bears, for now, we do find our travel companions again. Adeel, Rosie, Talhaa and Abdullah (a good Pakistani photographer/videographer). So we are reunited again and reunited we visit some of Adele's nomadic friends. 
They have special license to roam the Deosai grounds with their horses and goats, sleep and live in tents and have their dogs guard against bears and wolves. We get to meet them, drink goat milk with them and take some nice photos. I ask them about their way of life. They travel twice a year from Punjab via Kashmir to Deosai and back. They mainly herd goats and have horses to carry the stuff. Then there are the many, quite dangerous I must admit, dogs and the family exists of about 20-30 people, all living together in three tents. 
As always I love to meet nomadic people and whenever I'm with them and talk with them I wish to stay for a while. Live as they live, do as they do. And now I'm invited to do so… I might, next year though. The motivation and inspiration is there. 
After a while we make camp along a tiny river, have some food, make a campfire and Rosie is playing some guitar and singing a couple of songs. The stars are shining bright and the Milky Way is just out of this world. What a night. One to remember! 
We found what we are looking for; coldness!
I woke up at 5 this morning, not being able to sleep another minute. The cold shown on the windows of Alexine and the fact that I wear socks. I didn't sleep much, too much going on in my head. So I decide to get up, sit in my chair and read my book. While I listen to some good music and warm up in the morning but already quite hot sun. My face is burned and so are my hands. The sun here is fierce and definitely a lot brighter than it is down in the valleys. We're 4.100 meters up and it's 10 degrees Celcius, some tiny clouds appear as does the cold wind which makes the temperature drop a couple degrees. But I'm alright now, tired but at a place like this nothing really matters. The birds wake up but still no bear in sight. Yuri and I might take a walk in search of some bears today. A nice hike on this high plateau, it's good for us. We sit too much.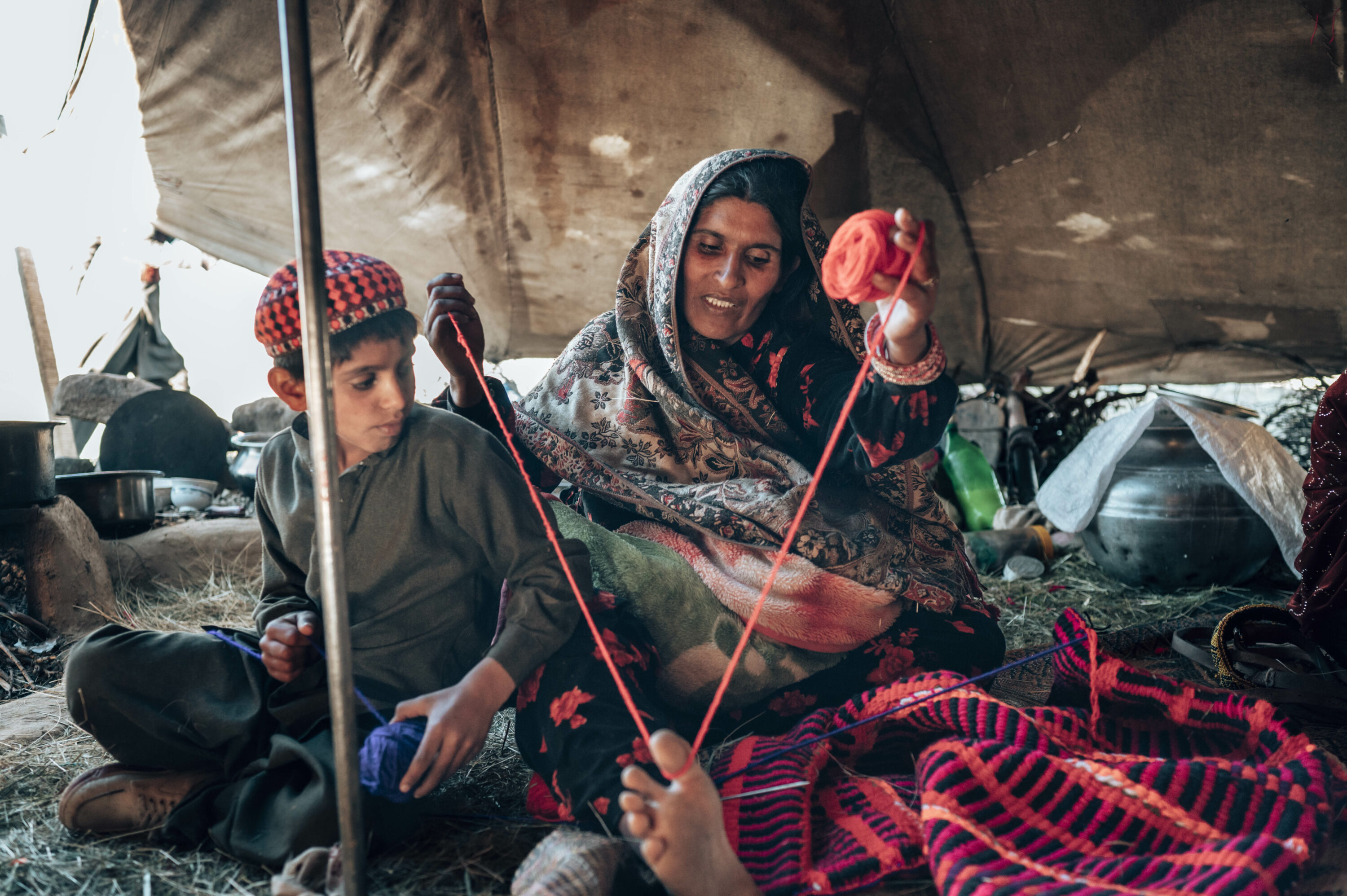 It's a 7km or 1.5 hour hike to the bear viewpoint. "You can't go any further" the ranger informs us. The path is quite boring. Yeah we are walking on a high plateau with beautiful mountain tops all around, however the path is a ranger car path and diversity is nowhere to be found. Bears are also nowhere to be found unfortunately. So after 2.5 hours of hiking we return a bit disappointed. But at least we had a nice hike and a good exercise. 
We have lunch with Adeel, Rosie, Talhaa and Abdullah. Try to catch some fish afterwards, again a disappointment and then continue our route to a lake in Deosai NP. 
This will be our last night together and it's going to be a cold one. The blue sky is covered with dark clouds and the wind brings in the cold. "It might snow tonight" Adeel says. I'm trying to convince him by saying that it's still too warm for that, but what do I know of mountain weather. 
A ranger comes to us and tells us that bears come here every night so it's fine to camp but food can't be in tents or outside of our vehicles. I really want to see a bear so am contemplating if I'll just drop some honey around Alexine. But no, you shouldn't play with faith, it will go wrong. 
It's so freezing cold outside that I'm hiding inside Alexine. Probably my favourite place of this whole Silk Road trip, the couch inside Alexine. This is where I feel at home, where I relax and where I can be in my bubble. Far away from people, from having to interact (which I love but sometimes you just want to be alone right?) and from the outside world in general. This is our save space where no one can come. Well, people are of course welcome in Alexine. Rosie uses her lately as a dressing room. Very convenient. I also like to write here. From Alexine I can see the world, life passing by outside but inside it stands still for a minute. And now it's my warm place, out of the wind. I'm properly sunburned today and didn't sleep well so I'm death tired. Still, it's just 8pm so need to keep my eyes open a little longer. 
Because of the clouds it's pitch black outside, can't see a thing. So also won't see a bear and with the wind rocking Alexine I'm not sure if I would be able to distinguish the wind from a bear rocking her. It's our last night in the National Park and the last night with this amazing company. We have talked, laughed and created so much. So much fun and so inspired. A time to never forget.
But tomorrow it's time to move on. The Fairy Meadows and killer mountain (Nanga Parbat) are waiting. Afterwards we'll move to Islamabad, then to Lahore and then … if our visas are accepted, to India! But until then, a lot more to explore. And let's hope this is the coldest it gets in the coming weeks 😉 Yeah I know, after Iran we said we wanted to go to the coolness of the mountains. Well, we found it and got enough of it already. Never satisfied 🤣
Love, Milene & Yuri
When we thought we left chaos in Amritsar or at the border with Pakistan, nothing was less true. Chaos was either following us, or we following it, all the way to Kashmir.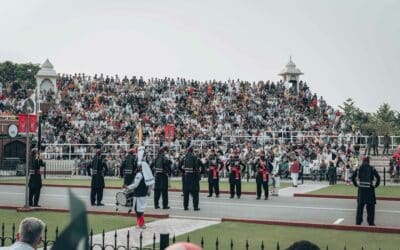 While tensions along the Pakistan – Indian border are still as high as ever, the ceremony taking place at the Wagah border makes it seem like a game.
We end our beautiful Pakistan trip in the heart of the country. Let's expLahore the city of culture, spicy food and history.