Police operation Quetta
After a good night sleep, except for the mosque waking us up too early we wake up. While having chapatti and cay as breakfast we talk a bit with the police officers. 
Quetta, the dangerous city of Beluchistan
They are all very kind and very curious. One is from Afghanistan and actually thinks that the Taliban take over is a good thing. "No murder was registered since they are in power" he tells us believing that to be true. I beg to differ but no need to start a discussion over this. I just tell him I really want to go there. "Then go! It's safe, it's good". When I tell him it's a bit too hot for me now to wear a burqa he laughs. 
Afterwards we walk over to other police officers who are taking us to the NOC office. We get into their car, two armed men next to us. Everyone seems relaxed and the guns are not ready to shoot so it'll all be okay. Then at a very crowded traffic junction we have to move from one car to the other, all under the protection of three armed officers. We need to be quick they tell us. Now we sit at the back of a car with two armed officer behind us. They look more serious than the previous ones but still, no gun ready to shoot. 
Quetta, also spelled Kwatah, city, district, and division of Balochistan province, Pakistan. The name is a variation of kwatkot, a Pashto word meaning "fort," and the city is still locally known by its ancient name of Shāl or Shālkot.
Commanding the Bolān and Khojak passes, Quetta was occupied by the British in 1876; a residency was founded by Sir Robert Sandeman, and the town developed around its strongly garrisoned army station.
We are allowed to travel through Beluchistan
After a while we arrive at the NOC office. An armed officer brings us to the office where we have to give our documents. The idea is that this will give us the protection we need in Beluchistan. They'll send a paper throughout the area to all the police stops and road blocks so they know we are coming. It is obliged by the government that tourists travel through the area safely. We haven't experienced any danger, or felt like we were in some kind of danger but they won't provide this for nothing. They say it takes 30 minutes to 4 hours for the NOC to finish. I feel sorry for the armed police officer who has to wait here with us. But as far as I can see all is going quite quick and we'll be on our way soon. Inshallah.
We will be escorted out of Beluchistan by police officers, afterwards we are on our own. Something we long for already. We will be travelling to Peshawar. "A good road, and good choice to go this way" they tell us. Which makes us happy. When a country has this many incredible sites to see but we have limited time we always experience a fear of missing out. But you can do only as much in one month. 
Prints are made and we have signed that we follow the rules of Baluchistan no matter what. No idea what the rules are precisely but alright. And we're done. 10 minutes!!!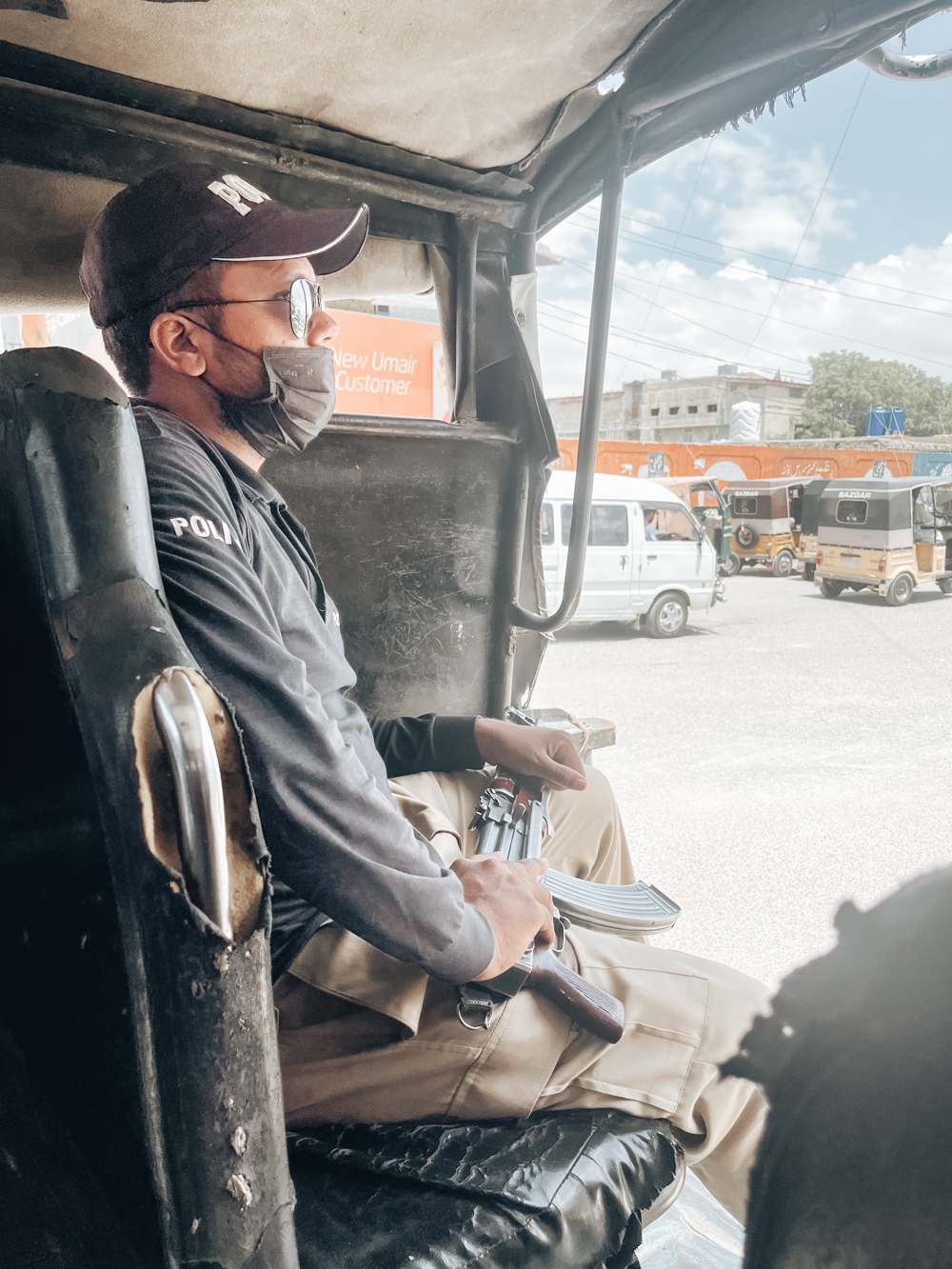 When I started to travel on my own back in 2001 (I was 16 years), I had a phone with the game 'snake' on it. Internet was still something you did on a computer and not on the phone. My Nokia 3210 gave my parents a save feeling (I could be reached) and me a way to kill time (love snake). I travelled to Tsjech Republic and Southern Africa without that phone because it made no sense to have it with me. "I will send an email when I find an Internet cafe" I told my parents. And when I arrived abroad I would go to an Internet cafe, pay some dollars and have 30 minutes of internet which I used to update my blog and email my family. Then I left and lost was the connection. Nowadays we travel to a country and a couple of things are our priority: changing money and getting a local SIMcard with data on it. We spend almost more time updating our friends and family (you!) than exploring 😉 No kidding, but sometimes it feels like that. That's why we take time offline more and more often. But yeah, so after the necessities of informing the whole Baluchistan force of our being here we moved to the phone office.
It took about 30 minutes to get the SIMcard but apparently it takes two hours for the card to work. Registering takes a while here. Just like printing a receipt. At the immigration office at the border it took an hour to print Yuri's visum and now it takes 15 minutes to print our receipt – no exaggeration here! 
So, done! When you read this you know we made it work. Afterwards we went to get some cash. Finally we can withdrawal money from the bank again. Although, we thought so. When we enter our card and pincode suddenly the machine shuts down: oh no! "Don't worry, electricity is off it will get back on soon and you'll get your card". So we wait, and indeed – as soon as the power gets back on we get our card back. No money though. At the next bank it all works but… they only want to give us 20k rupees, which is about €85,-. Not enough to survive on. When we left Iran we also left cheap gasoline behind. From €3,- a tank to €40,- a tank…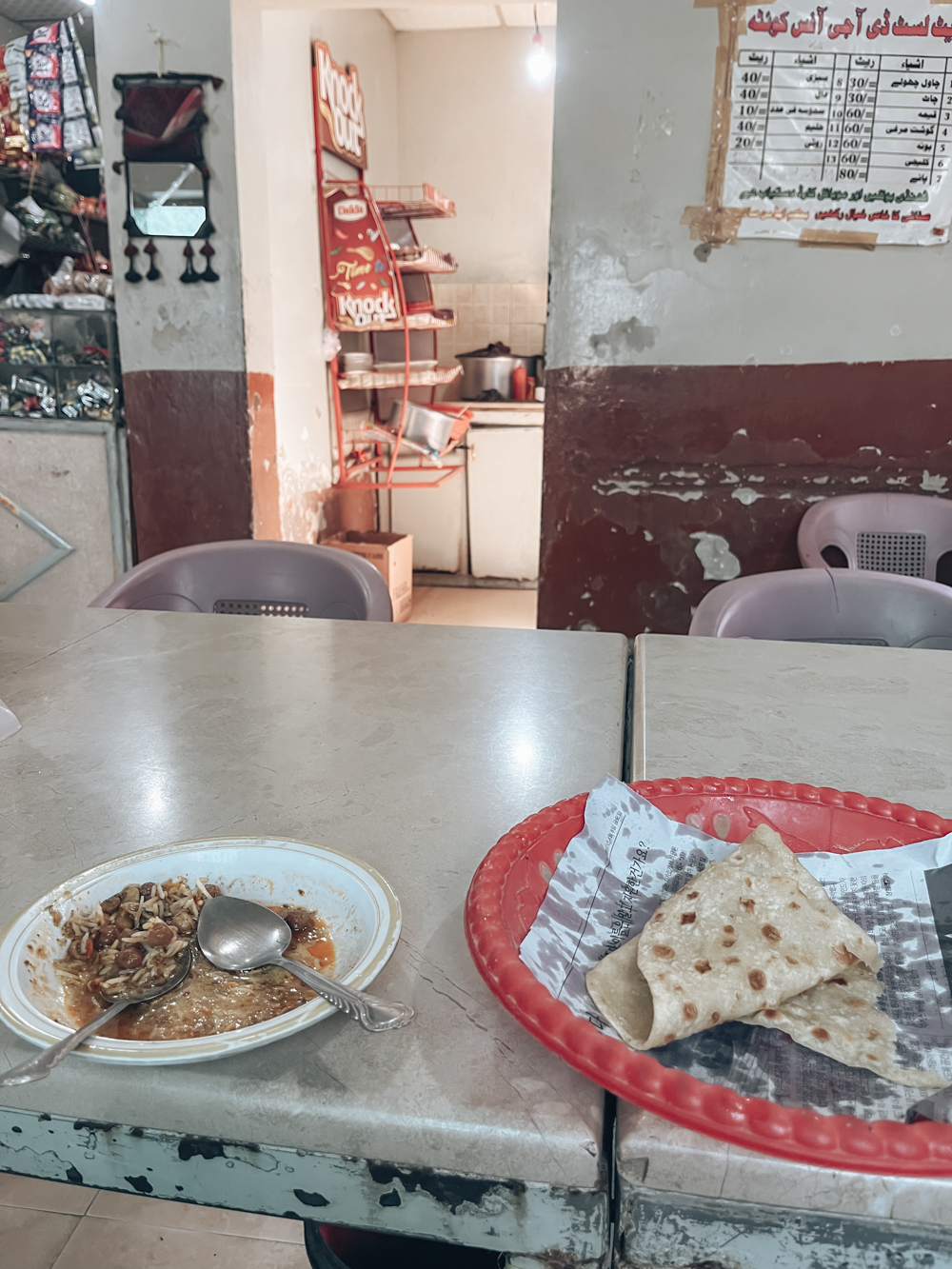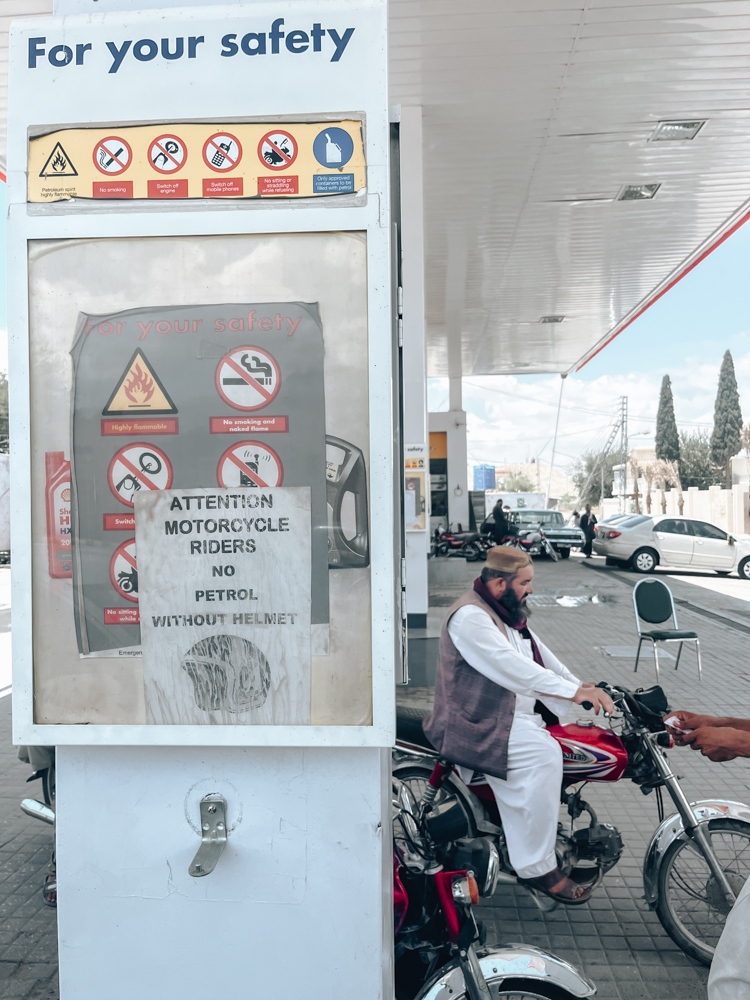 Back to the police station. Another round of paperwork and filling our watertank and off we go. We are very happy we stayed at the police station. The hotel was probably fine as well but here we could experience the police culture, meet some nice people, drive with them around town and fill our water tank. And now it's time to go. One escort takes us to another, that one changes as well and after only three estafette changes we are out of the city and onto the road to Peshawar. And what happens on this road will be for another blog. 
Love, Milene & Yuri
When we thought we left chaos in Amritsar or at the border with Pakistan, nothing was less true. Chaos was either following us, or we following it, all the way to Kashmir.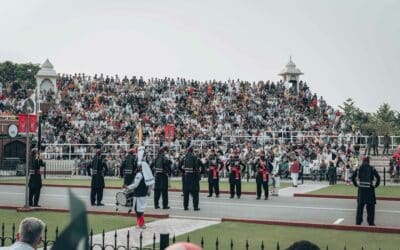 While tensions along the Pakistan – Indian border are still as high as ever, the ceremony taking place at the Wagah border makes it seem like a game.
We end our beautiful Pakistan trip in the heart of the country. Let's expLahore the city of culture, spicy food and history.