Arabian nights in Persia
In the middle of the desert a building rises up like a mirage. The walls tall reaching for the stars, the entrance big to welcome a caravan with a thousand camels and the road leads into a courtyard wide enough to fit many travellers and merchants alike. We have arrived at the caravanserai where we will stay for the night. Not in one of the rooms as they haven't been used for maybe a hundred years. But in our van, in the middle of the courtyard.
The magic of a caravanserai
It is hot, but the shade inside the caravanserai is pure blizz. However, at the moment I am sitting on top of the caravanserai where the wind blows over the top just hard enough to cool me down a bit. Long shadows arise while the sun is setting and the mountains in the distance stand tall yet never grow. Birds are singing and even an owl shows her magnificent wings. Footsteps of foxes and goats are seen around the caravanserai and stories of a deadly scorpion are shared. 
We do not know yet what the night will bring but this moment, on our Persian carpet on top of the caravanserai is pure happiness. While the wind blows more fierce than before it takes words of happiness and gratefulness with it. The only things that's left are indescribably emotions and feelings left unspoken. And it's okay. While the connection with the outside world is fading the being here and now has returned. One hand on the ground and the other holding a book. No distractions, except for nature whose disturbance is ever welcome.  
The importance of a caravanserai
Caravanserais, large guest houses for travelling merchants and their caravans, were dispersed along the land routes of the Silk Roads. Found extensively from Turkey to China, caravanserai provided not only food and shelter but also an opportunity for merchants and others travelling to exchange goods, access local markets and meet and interact with people from across the vast regions encompassed by the Silk Roads. By offering such an intercultural environment, caravanserai were important sites for the exchange of material culture, languages and ideas.
*Source: UNESCO
On top of the caravanserai
The caravanserai has been inviting visitors for many many years and still does his job well. Providing shelter, shadow and serenity. A place where one can rest, without being disturbed by modern times. By to do lists and notifications. By postings on social media and the business of the city. The chaos of modern life feels as far away as the nearest town. 
This must be it. How Aladdin felt in 'Arabian Nights' and Ibn Battuta after a long day of hiking in the blistering sun. While they sat on top of the caravanserai watching over the desert where the land merges with the sky on the horizon. 
Grains of sand in my hair, salt on my broken lips, dirty feet. No shower, no toilet, no shame. Travelling is romantic yet smelly. Sweat washed away by the wind, water too precious to have a shower with. Desert life, travel life, van life. It's all about letting go of what is thought to be normal nowadays, about finding your inner animal, the human who could live in the wild.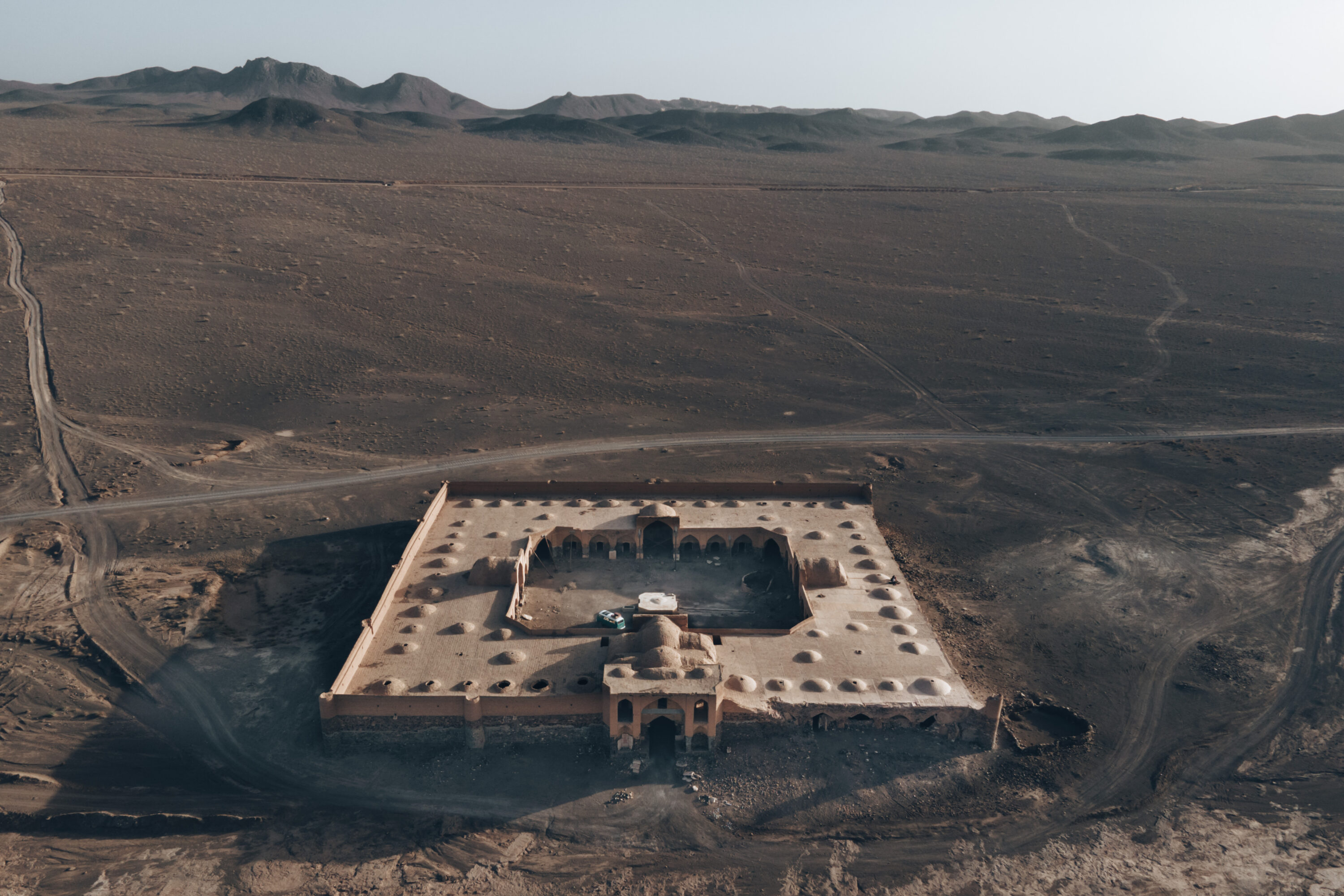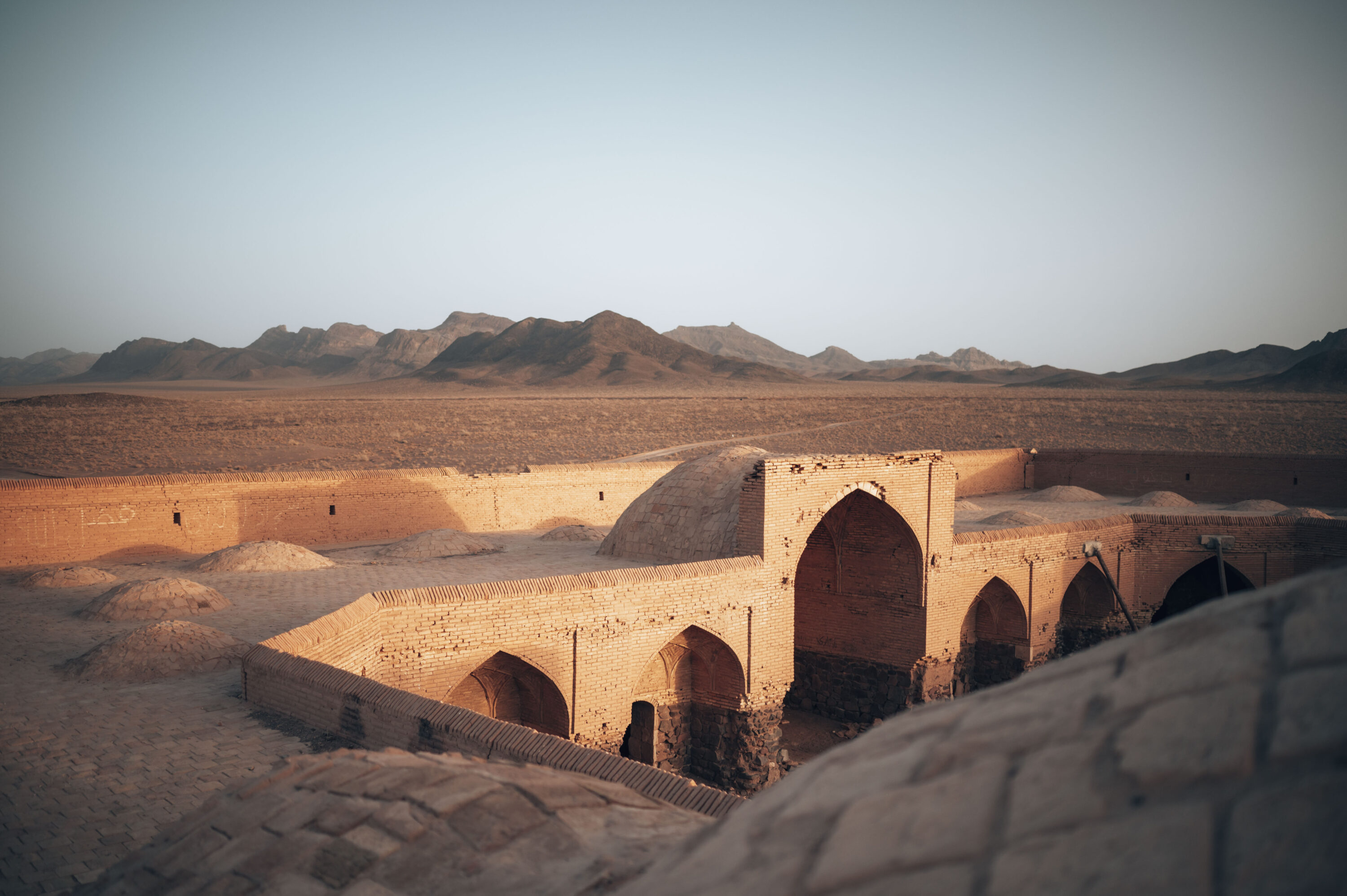 Because a hot shower, proper toilet and clean feet don't contribute to happiness. Sunsets, clear skies and fallen stars do. Mountains, deserts and ancient buildings do. Exploring, adventure, action do. Alright alright, writing a blog and reading the reactions of friends, families and even strangers makes us happy as well. But all should be in balance. 
Back to this ancient caravanserai I'm sitting atop. A gem on the Silk Road and a gem today. In the middle of the desert a place to take a breath, to enjoy the sunset and the Milky Way at night. A place to read a book, not the news. To check the surroundings and get excited about tiny animals that crawl around. A place to put your carpet on top and marvel over the incredible view and the road that leads nowhere and everywhere at the same time. 
It's getting more windy now which feels great but also means not to many stars will be visible tonight due to the sand in the sky. Well, I guess we have to stay another night!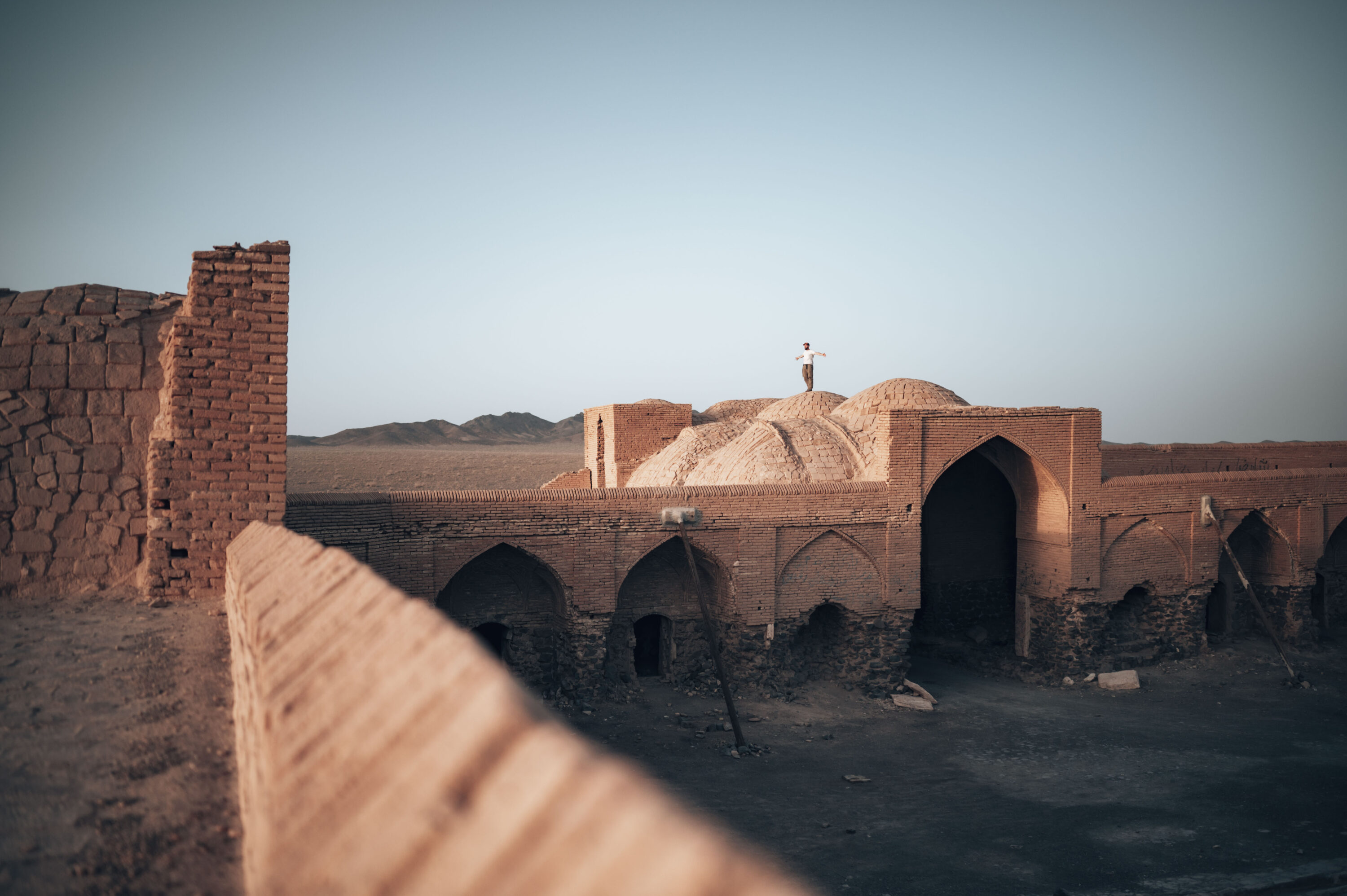 Another day at the caravanserai
Wow, things unexpectedly changed. For the better I would say. While enjoying the sunset some cars and a motorbike arrived at the caravanserai. Long story short, we were invited to dinner, had nice chats and enjoyed a campfire. The guys are from Varzaneh and come here to ride their bikes through the desert and mountains. They often sleep at this caravanserai. So instead of being with the two of us, we were surrounded by old friends (the Belgians arrived a night before we did) and new friends. 
This morning we woke up early to have breakfast and head to the mountains for a hike. Not all things go as planned and after we had breakfast with our new friends, fixed our exhaust pipe (it got lose) and cleaned Alexine it was already too hot to have a hike so instead we had a short drive.
When we came back to the caravanserai everyone was gone. So we enjoyed some alone time, catched up on some editing, read a book (I'm reading a really good and fun one about the Silk Road) and watched the birds (incl an owl) that call this caravanserai their home. 
During lunch time two cyclists entered the caravanserai. It happened to be Bob, a Belgian cyclist we met in Isfahan a couple of days ago, and his friend Mostafa. We had a nice lunch and chat and wished them well because they had another 60km to go. 
And back to the quietness of the desert again. Really there is nothing but beautiful emptiness here. The wind blows fiercely through my hair. Yeah, my hair! There is nothing but mountains and desert sand around us so besides not having internet, I also don't have a headscarf that prevents my head from cooling down. What we do have are flies. Everywhere! Even the wind doesn't stop them from crawling around. They don't take lunch breaks, and love sitting around for dinner time. If one animal in Iran explores the true meaning of taarof it is the flies. Other than that we're having the time of our life's here. 
Far away from towns, people and internet. And that happened to be just what we needed. A break, some time off, freedom to the max! Because you ain't really free if you have a to do list right? Our Belgian friends always say "moeten is dwang" which translates to "a must do is an undesirable force" and means 'if you MUST do something, it's by force not by will'. And I totally get that. Of course, there are things we must do; breathe, drink, eat, sleep. But all other 'musts' are forced upon you. Either by yourself or someone else.  
Deep thoughts 😉
While I'm getting stuck into what I must and mustn't do, the shining sun turns into a million shining stars. We drink our IPA (Iran Pale Ale – 0%) on the roof of the caravanserai one last time. Tomorrow we will be heading to Yazd to extend our visa, visit a carpet weaver and be mesmerised by the first airconditioners the world has known! And they look a lot better than the ones we have now.
Stay tuned!
Love, Milene & Yuri
When we thought we left chaos in Amritsar or at the border with Pakistan, nothing was less true. Chaos was either following us, or we following it, all the way to Kashmir.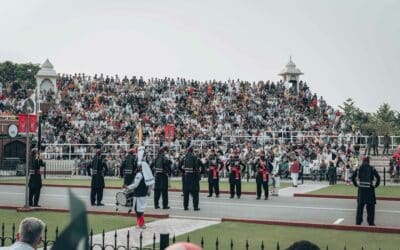 While tensions along the Pakistan – Indian border are still as high as ever, the ceremony taking place at the Wagah border makes it seem like a game.
We end our beautiful Pakistan trip in the heart of the country. Let's expLahore the city of culture, spicy food and history.