Iranian cities
Not sure if you noticed but I've been skipping writing about the cities we've visited. While I'm writing this sentence we have been exploring Tehran, Kashan and Isfahan and I can't seem to wrap my head around all we've witnessed. Or maybe I can but I can't seem to find the words for all the impressions, the chaos and the overwhelming people. So, I guess I'll talk about the three of them in this post shortly.
After the damage done on Alexine and the horrible fixing we moved to Tehran. The capital of Iran, with 14 million people during the day and 5 million people during night time. Or so we heard. 
We decided Alexine was damaged enough already so skipped driving into the chaotic city where people turn into absurd human beings while behind the steering wheel. So, we parked next to our beloved Belgian friends on the parking lot of the Khomeini shrine. Truth be told, we didn't enter the shrine. For multiple reason, if you're interested do send us an email and we'll elaborate on it. Moving on.
The following days we explored the city, one cafe at the time and in between some of the palaces. The shah definitely loved himself, as rooms were full with a million tiny mirrors. It's like having millions of iPhones hanging on your wall in selfie mode. Waaaaaay to much for our taste. We also visited the grand bazar of Tehran where we had saffron tea at the smallest tea house of the world. It wasn't really a tea house, more a tea counter where you could order your take away tea. But it was fun. 
After visiting more cafes we went to an area, Darband, where many Iranians come to enjoy some dining out. It was more an attraction park than a relaxing place but we enjoyed the schnitzel. Having spend a couple of days, a lot of money and many footsteps in Tehran it was time to move on. 
Via some Caravanserai to the next city, Kashan!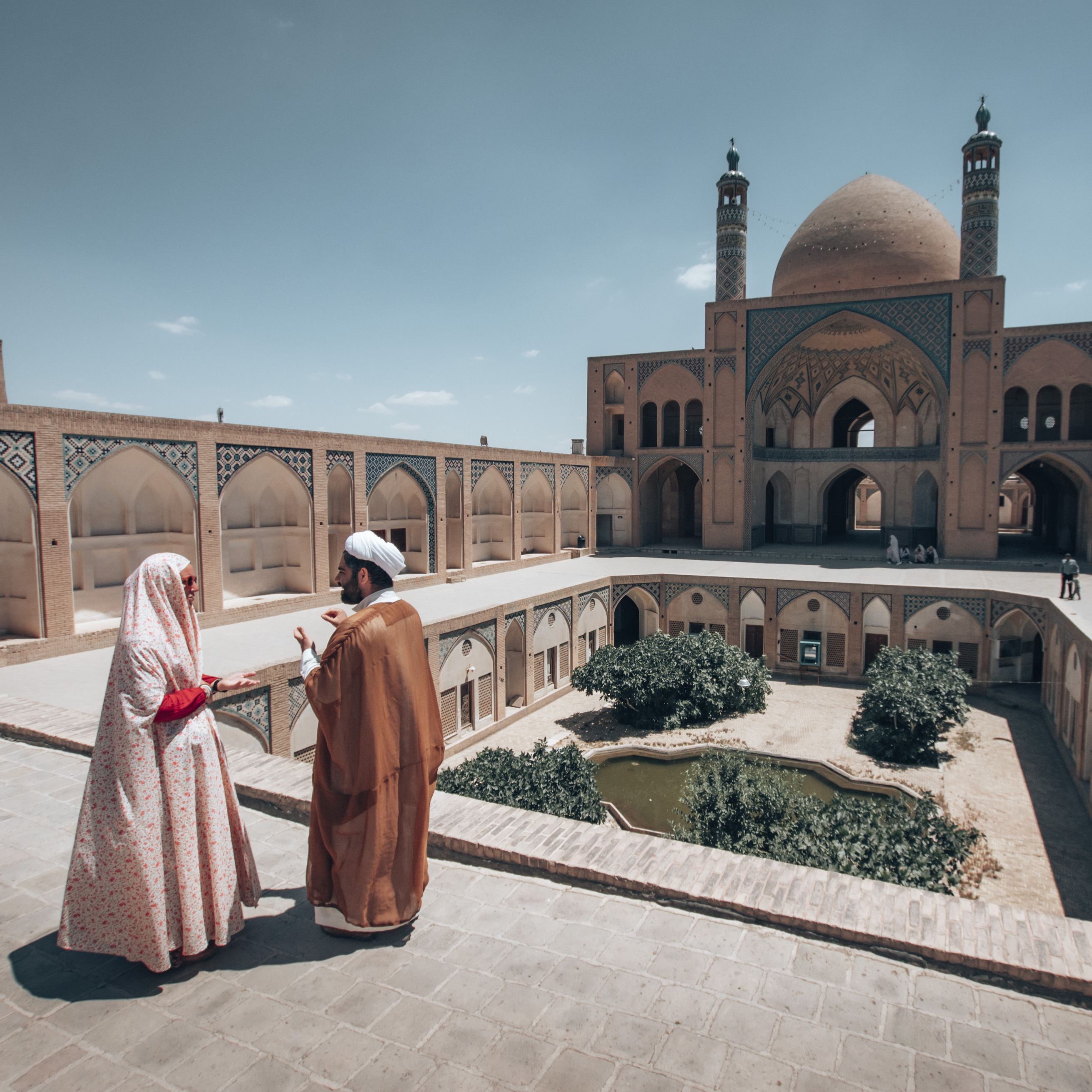 A lot smaller but also a lot nicer than Tehran. Kashan is a small city but was once an important hub on the Silk Road. Merchants came here to trade their goods, carpets where sold, ideas exchanged and friendships made. Nowadays Kashan is a city that many tourists skip, unrightfully so. It's a magnificent city with impressive buildings. From the oldest walled garden of the country to architectural highlights of traditional houses. Then there is the bazar with the most impressive inner courtyards and a caravanserai. 
However, despite the small cute alleys and friendly but not too overwhelming people of Kashan one needs to know that during lunch hours (also the hottest time of the day) everything is closed. Not just restaurants and cafes but even the bazar!! We of course didn't know so we're a bit lost. But apparently getting lost is what is needed when discovering new places. 
"Never to get lost is not to live, not to know how to get lost brings you to destruction, and somewhere in the terra incognita in between lies a life of discovery" – Rebecca Solnit, A field guide to getting lost. 
In Kashan we stayed at another parking lot where the shower was just a tube from which water poured down. We need nothing more. After two nights of fun, again with our Belgian travel companions and one night with the French couple we met a while ago, we decided it was time to leave. This time, a famous city was our destination. Also known as 'half of the world', we were bound for Isfahan.
With a detour, via a caravanserai (what else?) and a mountain road that we almost couldn't get over as we got stuck in some sand, we arrived at Abynayeh. The road to the small village was amazing! Probably more impressive than the village itself which felt more like an on purpose touristy village, where all that was authentic was fake. It seemed. But to get here we almost got stuck on a steep mountain slope with no way out. It's was also quite the dirt road, where stones and sand made up the way. But we managed to get to the village. Not entirely without cuts and bruises as I suddenly got sick. So while Yuri explored the village I turned my stomach inside out. Not the best of days, so let's skip it and move forward. 
Cause you're really here to read more about Isfahan right? Well it's hard to describe Isfahan in a couple of sentences but I'll give it a try.
Isfahan is intense. The buildings are marvellous, colourful, incredible. The streets crowded, big and small. Tiny alleys make sure you get lost while big avenues are filled with fast food restaurants and food trucks. The squares are empty when the sun is out, but turn into wonderful sceneries at sundown. The people loving, kind and sometimes a bit too much. They're very curious, ask many questions and all invite you for a cup of tea. Iranian people are very concerned with how we perceive them, what we think of them and what's spoken of Iran in the news. They truly hope we get back home telling everyone they're not terrorists but friendly people. And they truly are!
And Isfahan is an amazing city. It has been the capital of Iran twice and that's visible in the grandeur of the largest square on earth; Naqsh-e Jahan Square officially Meidan Imam Khomeini also known as the Shah Square prior to 1979.
Isfahan doesn't have the palaces Tehran has, but it does have everything a capital city needs. An amazing bazar where you easily get lost in awe, the squares that are filled with people when planet Earth is cooled down, a boulevard alongside a river that apparently only flows three times a year due to a dam further up stream. It has churches, mosques and synagogues. Hotels, traditional houses and hostels. It has restaurants, cafes and tea houses. Even everyday food trucks. It has universities, museums and live music. It has everything one needs and more. 
We absolutely loved our time in Isfahan. Attended a Volkswagen club gathering (where we met many great people), had our van fixed and were interviewed by the lovely Shakiba. Shakiba works at Markevel, which is the travel agency that helped us get our visa. She is such an inspiring enthusiastic young lady, we were glad to meet her in real life and have a delicious cappuccino at one of the amazing cafes.
But all things come to an end and it was time to let go of the chaos and find some peace and quiet in the desert nearby. Sand dunes and caravanserai it is! 
Want to know more about Tehran, Kashan & Isfahan? Subscribe to the MYgration Times and get a copy in your mailbox 😍
Love, Milene & Yuri
When we thought we left chaos in Amritsar or at the border with Pakistan, nothing was less true. Chaos was either following us, or we following it, all the way to Kashmir.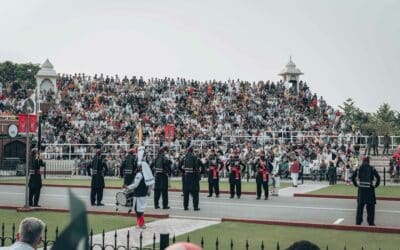 While tensions along the Pakistan – Indian border are still as high as ever, the ceremony taking place at the Wagah border makes it seem like a game.
We end our beautiful Pakistan trip in the heart of the country. Let's expLahore the city of culture, spicy food and history.