The first days in Iran
While I enjoy the view and the wind on my bare arms, the thunder is coming from behind the mountains. Out of range we sit here waiting for the first raindrops to reach us. The birds are silent and besides the thunder we only hear our own heartbeat. Around us only the orange and white coloured mountains, bare plains through which a winding road runs and an empty river bed.
It is bare and dry but beautifully coloured mountains make the 360 degrees view around us phenomenal. And our photogenic van, Alexine, fills our heads and hearts with creative excesses. Now we only need the beautiful evening sun, but the thunder makes us return from longing to reality. I guess we have to get up early to catch the morning sun instead.
Getting up early is nothing new to us. The past few days we did not sleep so good, but our biological clock woke us up early anyway. We invariably opened our eyes around seven o'clock and brushed our teeth around seven-thirty. A good workout for when we head further south and want to beat the heat by driving in the early hours of the day, when the world is asleep and the heat hasn't reached us yet. But let's talk about the last few days. Finally, after months of waiting, we crossed the border into Iran. So while the thunder is closing in on us and audible like a train of trucks rumbling down a gravel path, we go back in time.
The word hijab refers to both the head-covering traditionally worn by many Muslim women and to the concept of modesty in Islam generally.
In Iran, mandatory hijab wearing was imposed several years after the 1979 Islamic Revolution. In 1983, Parliament decided that women who do not cover their hair in public will be punished with 74 lashes. Since 1995, unveiled women can also be imprisoned for up to 60 days. However, the rules aren't as strict as it was back then. It's ok to see a bit of the hair.
From caravanserai to monastery
And just as the first drops sound on the car now, so did the first stones on the car as we drove from the Iranian-Armenian border to Jolfa. A beautiful winding road took us along the border, first with Armenia and not much later with the enclave of Azerbaijan. The road winds through a fantastic landscape with rocks as sharp as razors, it seems. There is hardly a nicer welcome in a country. The clouds turn red, purple and pink while the sun disappears behind the sharp rocks. Night falls when we search for a gas station. Without Rials (Iranian currency) but with dollars in our pocket, we find a gas station where we fill our entire tank for five dollars. We wonder if we haven't paid too much but quickly think about the petrol prices in the Netherlands and laugh about it.  The Azeris who live here do not speak Farsi but a branch of Turkish. So I am pleasantly surprised that I can communicate, even if I sometimes understand it poorly. The words are pronounced slightly differently, so that it is difficult for me to understand what they are talking about.  Plus, my Turkish is just as rusty as Alexine was before her makeover. But with a little patience, laughter and hand gestures we can go a long way.
And we have come a long way today, with the necessary nice stops, climbing a 2500 meter high mountain and the 2.5 hour border crossing, we arrive in Jolfa around 21:00. Here we decide not to look for a wild camping spot but a much too luxurious hotel, simply because we can, and also because we are tired.
The Imperial Hotel seems to be the best place to start our Iranian adventure.  We look a bit tired and maybe a bit lost thus people look at us strangly. In addition, we are with a Volkswagen van and come from the Netherlands. "We have visitors from all over the world but never do they arrive by car from their home country" and we get that. Of course, every vanlifer or overlander does not sleep in such a luxurious hotel. Anyway, we love to color outside the lines and color our own drawing. Which we do by having a delicious dinner in our somewhat dirty travel clothes and then jumping under a delicious hot shower after which we drink tea in a king-size bed. Sometimes you have to spoil yourself and we are only too happy to do that.
The next day we have breakfast at the hotel – yum!, then shoot a promo video for the hotel and continue our way to the first attraction. Of course in Silk Road style, we visit a beautifully renovated Caravanserai. We have already visited many, each with its own originality. This was again beautiful, the courtyard where the camels stood and drank water is now filled with brightly colored flowers.  Surrounding the courtyard were the rooms where travelers and merchants then slept and we can now drink a cup of tea.  Despite the fact that the caravanserai was renovated not too long ago, it still feels like you are in lost times.
We leave the caravanserai behind to visit the much too crowded but beautiful St Stepanos Monastery. Our first UNESCO World Heritage Site of Iran. It is a beautiful complex in the mountains with unique details. Unfortunately very busy which makes it difficult for me to hear the stories that the walls are whispering to me. Every stone touched by ancient events and the voices of time. And there, too, a thunderstorm appeared as we made our way among the picnicking Iranians. Something we will be seeing a lot more of.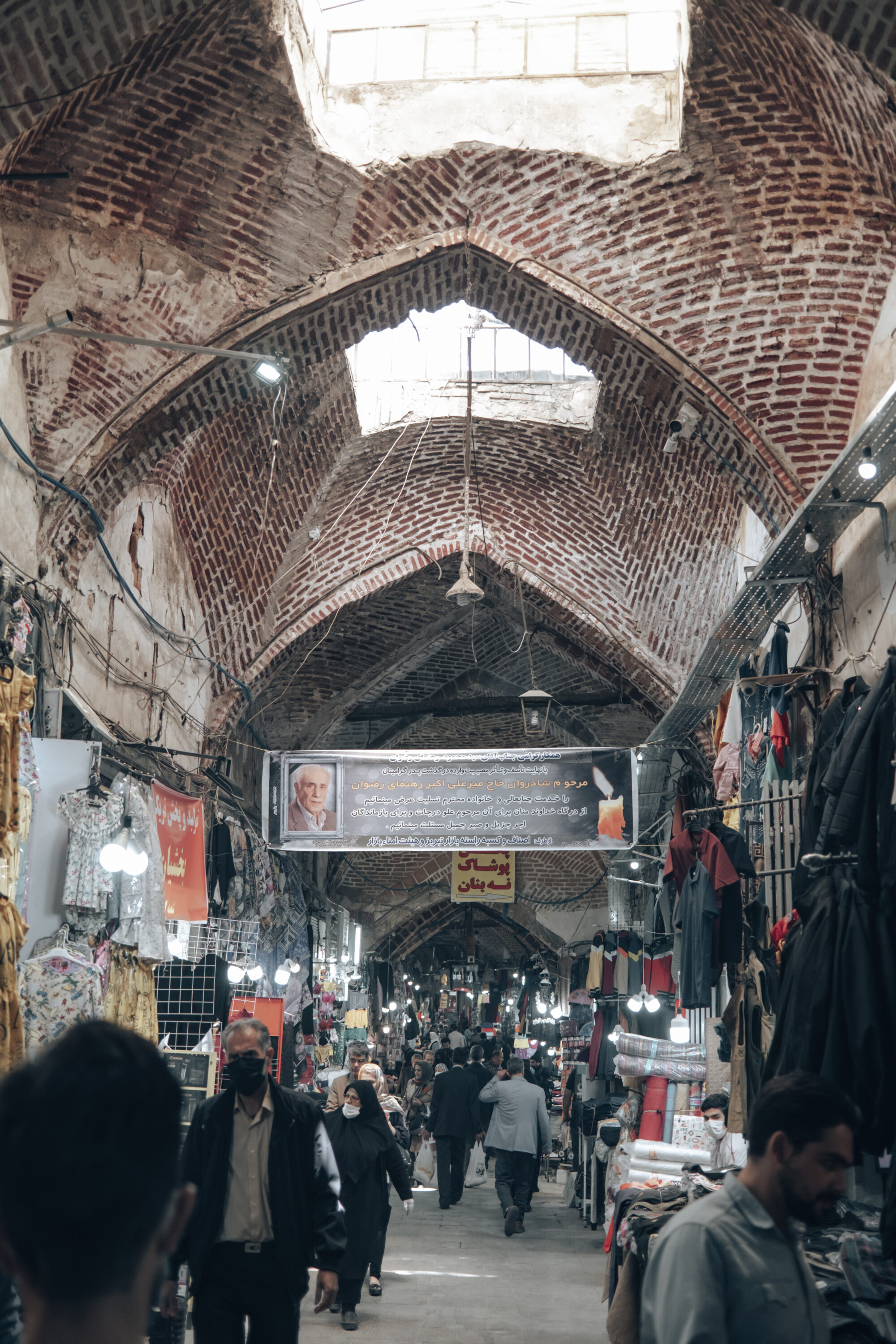 Visiting ancient capital Tabriz
We continue our way to Tabriz. Once an important trading city on the Silk Road, as we know from the stories. But Tabriz even has a time when it was the capital of Azarbin the 3rd century AD and again under the Mongol Ilkhanid dynasty. Now the city is often skipped, or visited mainly to exchange money, buy a SIM card and arrange car insurance. Three things we also did here. But, what I was particularly interested in was the bazaar. Because while many people think that Istanbul's 'grand bazaar' is the largest, nothing could be further from the truth. With 8,000 shops, 70,000 hectares and 22 caravanserais, this is really the largest in the world. 
It is also one of the oldest bazaars in the Middle East. And it shows. The columns and roof that keep the bazaar dry look old, though renovated. But the architecture reveals its age. The ceiling is high and the corridors run like a maze from Caravanserai to Caravanserai. The images come to me with every scent that enters my nose. Travelers arrived with a procession of camels and on horseback. Traders couldn't wait to sell their products here. Fresh herbs, tea, carpets made of silk were sold to anyone who was interested. Stories were shared, different languages ​​were spoken and products exchanged. While lurking on a water pipe, the most adventurous tales were told. And also tips, warnings and recommendations. The sellers have stayed, the building still stands proudly, only the travelers have changed. The Caravanserais have been converted into gardens full of green trees and cats and travelers no longer come here to buy but to step into a world that is now foreign to them.
Sunbeams flood the bazaar, women try to choose from the thousands of items of clothing sold here, and market vendors shout their goods. And as we make our way through the bazaar, we are as much of an attraction to the people there as the bazaar is to us.
In Tabriz we are camping safe and relaxed in a parking lot next to a park with toilet. It's free and meets everything we need. Where travelers used to meet in a Caravanserai, we overlanders do so at free camping spots. The four vans cosy together. We, the Dutch, next to us a mixed couple from Italy & Moldova, opposite from us a Belgian couple and next to them two French people. We decide to go out for dinner together and are again the biggest attraction of the restaurant. We are photographed often and everyone asks where we are from.  We answer with enthusiasm but are also looking forward to the food that will soon fill our stomachs. Ramadan is still underway, so there is no possibility to eat before 8 p.m. But the longer the wait, the better the food, right?  Yes!  The food here is not only incredibly cheap but also really delicious! I eat my first beryoon and am sold. And that for only 1.5 Euro! Can't wait to try more of Iranian cuisine.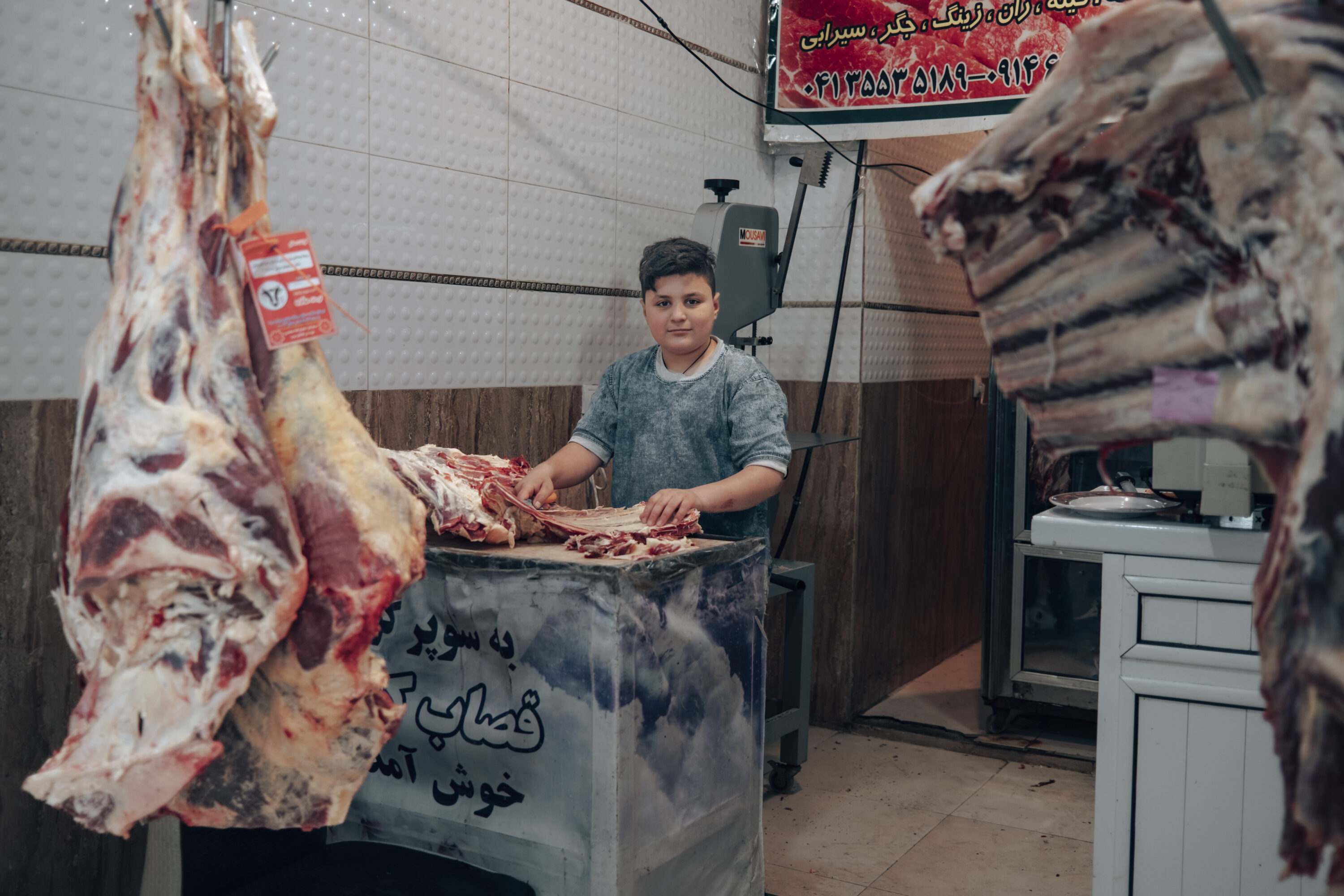 Kandovan and police knocking at the window
After a few days of Tabriz it is time to continue our journey. After all, we want to see so much and Iran is too big to stick around for long. Our first stop after Tabriz is Kandovan. Together with all holidaying Iranians. Ramadan is over and it ends with a week of vacation. A good time to see some of your own country, right? So we, along with hundreds of others, walk through the 800-year-old town. Kandovan, like Cappadocia, is a town where people live in cave-like houses. It looks nice, but also very touristy with many shops that sell honey, clothes and other spices. We are not there too long because it is busy, cold and wet. And so we drive on to our next camping spot. One on a lake with a hot shower.
Once again we are standing with our Flemish and French friends. Unfortunately it starts to rain cats and dogs and we all quickly disappear into our vans. We cook some pasta and while we are at it the guard comes to tell us we have to leave before 21:00. Wow, we hadn't thought of that. We quickly eat our food, take a shower and move. Not very far away because it is already dark and we are tired. We are not going to get a good rest because in the middle of the night there is a knock on our window. At 03:00am the police decide it is a good time to check our passports. Not very amused, we give them and try to go to sleep quickly afterwards, but the night's rest is already too much disturbed.
And that brings us to today. Again we wake up early. This time with a nice sun on the van. We have some breakfast with our friends at the lake and drive quietly towards the rainbow mountains where we are now in between the thunderstorms which seem to surround us from all sides. Again we visited a Caravanserai (500 years old and half restored), we were invited for tea at a factory where they grow mushrooms and sell dried fruit. Of course we bought some fruit because yum! And we got mushrooms as a present. Along the way we also bought some bread that we could take with us for free. Which of course we didn't accept. It's a normal thing here. Giving things for free to tourists. Taarof it is called. We didn't have to pay toll either. What is also normal here is waving at tourists, welcoming them to Iran and asking where they come from. 
Anyway, there we are, between the most beautiful mountains on a deserted road, listening to the thunder that comes and goes. We can't wait to see this spectacle in the morning sun. So that means going to bed early and getting up early again. Will we ever sleep until noon? Probably not. 
 Love, Milene & Yuri
When we thought we left chaos in Amritsar or at the border with Pakistan, nothing was less true. Chaos was either following us, or we following it, all the way to Kashmir.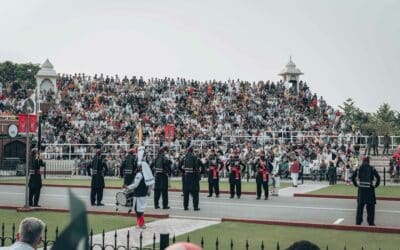 While tensions along the Pakistan – Indian border are still as high as ever, the ceremony taking place at the Wagah border makes it seem like a game.
We end our beautiful Pakistan trip in the heart of the country. Let's expLahore the city of culture, spicy food and history.