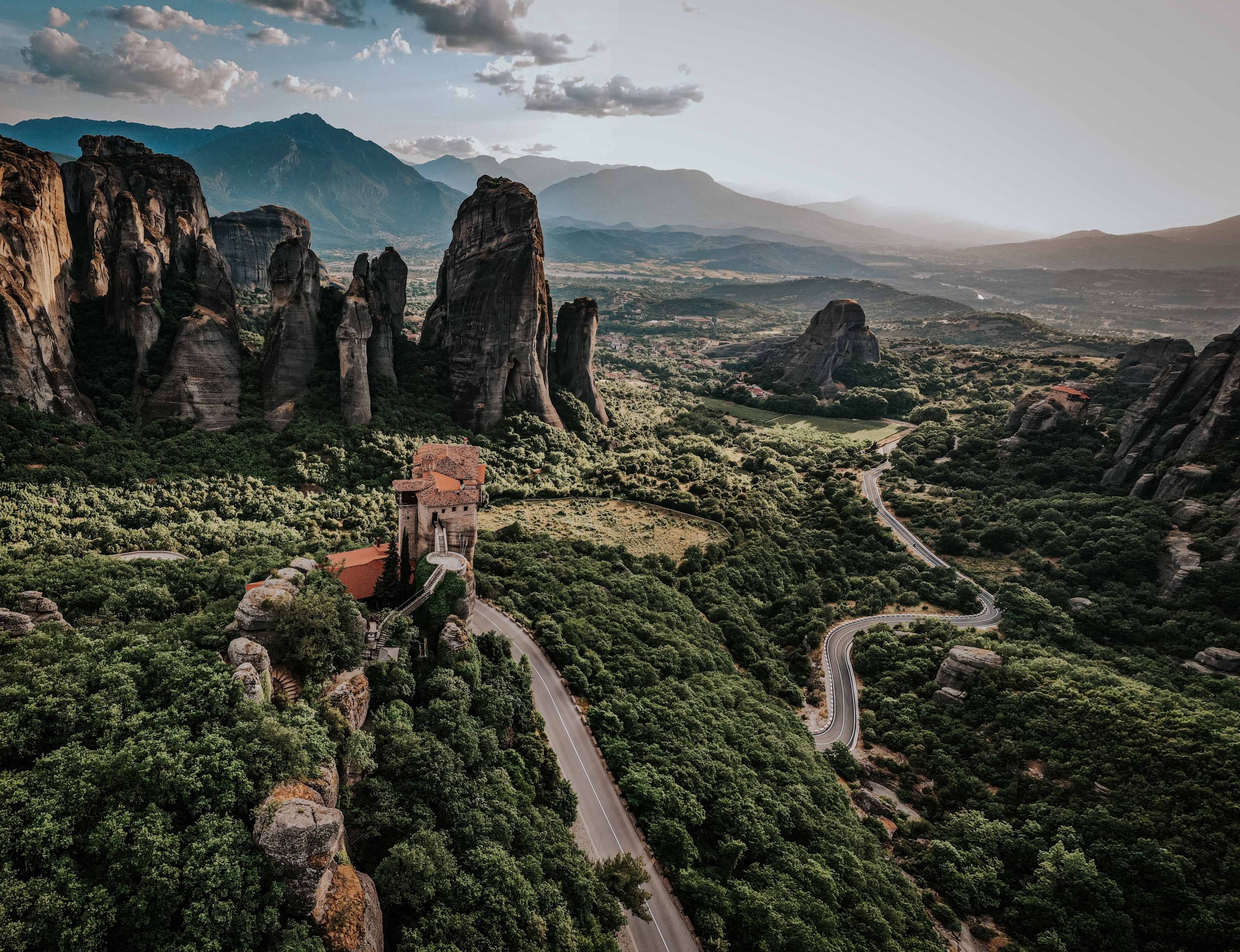 One of my favourite writers is Herodotos (writer of 'The Histories'), but even more do I love stories about him. Like the travels of Herodotos by Ryszard Kapuschinsky, definitely my second best book (after The Hobbit by J.r.r. Tolkien). In this book Kapushinksy follows Herodotos on his travels. It's not about the Greece we know now but expands beyond its recent borders. Besides two Greek islands I haven't explored Greece truly. So when we had the chance to vanture through the mainland of this interesting country we couldn't resist.
From Herodotos to Alexander the Great
Herodotos was a famous writer and geographer who travelled beyond borders and imaginations in a time where travel was even more adventurous than it is now. He was born Halicarnassus, part of the former Persian Empire.
"It is clear that not in one thing alone, but in many ways equality and freedom of speech are a good thing."
But we aren't following in Herodotos footsteps yet, we do however find ourselves in the footsteps of another famous person. Alexander the Great, a Macedonian, was born in Pella which is located in modern time Greece. And as we follow the footsteps of many man, once great explorers, and visit some of their birthplaces we couldn't skip this one of course.
Pella, originally known as Bounomos, the city developed rapidly under Philip II, but, after the defeat of the last Macedonian king by the Romans (168 BC), it became a small provincial town.
And with small I mean tiny. There is not much except for some restaurants, statues and a square named after Alexander. Not far from the village there are some archeological sights which we didn't visit because it costs €8,- per person and even though it includes the museum we found that a bit too much for just a quick in and out.
Mount Olympos
From heroes to gods. We left Pella behind and headed towards Mount Olympos, also known as the home of Zeus. Mount Olympos is the highest mountain of Greece and the basis of many stories.
Mount Olympus is snowcapped and often has cloud cover. According to Homer's Odyssey, however, the peak never has storms and it basks in cloudless aithēr (Greek: "pure upper air"; thus "ether"). Later writers elaborated upon this description, which may have originated from the observation that the peak is often visible above a belt of relatively low clouds.
We hiked up the mountain, not to this cloudless peak so we didn't find the throne of Zeus but we did follow the river to a holy cave and a monastery that is renovated after 60 years of being a ruin. It was bombed by the Germans during the Second World War and ever since left alone until recently. We saw some monks there as well but mainly builders and I was wearing undecent clothing (read; shorts and a tank top).
The hike took us a bit more than two hours before we headed towards our next stop.
The monasteries and mountains of Meteora
It feels like we are racing through Greece. Going quickly towards Athens because we don't have much time. We want to be in Turkey soon. But of course we couldn't miss Meteora and as it was on the way to Athens we had a quick stop here.
The name 'Meteora' was derived from a Greek contraction meaning "suspended in the air." Rising high above the Thessalian plain, the sandstone megaliths on which the monasteries were built average 300 metres in height, with several reaching 550 metres. The rock masses were formed some 60 million years ago, their distinctive and varied shapes sculpted over time by earthquakes, rain, and wind.
Religious life in this region can be traced from about 1000 CE, when hermit dwellings were established in the lesser peaks of the rock mounds.
Although 24 monasteries were built, each containing a church or two, monks' cells, and a refectory, only 6 remain: Great Metéoron, Varlaám (also called All Saints [Áyioi Pándes]), Roussanou, St. Nikolas (Áyios Nikolaos), Holy Trinity (Áyia Triada), and St. Stephen (Áyios Stéfanos). Some still serve a religious function, though they are now only sparsely populated by monks and nuns.
The monasteries are accessible by bridges and stairs cut into the rocks, although before the 1920s ascending the rock columns involved the perilous enterprise of climbing ladders or being hauled up by ropes and nets.
We visited two of the monasteries, had a coffee with one view and baked a sausage at another. Of course we also took the drone out for some insane shots and watched the sun set.
Athina
Not only a goddess but also a great city. We went all the way South to visit Athens, more particularly a Syrian family I know from Lesvos. They made their way to Athens a couple of months ago and welcomed us into their home.
Athens is the first European city when approached from the Middle East. When approached from the west, from elsewhere in Europe, what strikes us is the influence of the East—in the food, music, and clamorous street life—perhaps vestiges of a time when Athens was divorced from European society under the yoke of Ottoman rule.
And that different part of Athens we got to see these days. We skipped most of the tourist attractions and got to see Athens from a migrant point of view. Streets full with Bangladeshi and Pakistani shops, the chaos as if one walks the streets of Damascus and the selling of very cheap phones. "It's not stolen, it's my own phone" he says while holding five phones in his hands.
We ate the most delicious Syrian food, drank Arabic coffee and played with the five kids of the family. Especially the baby whom I saw grow up these past 7 months of her life. She got born on Lesvos, was quite ill when I last hold her on the island but is now doing so great. Such a strong girl.
We stayed with the family for three nights and left with the van full of Syrian food. They don't know 'no' in Syria so even though I tried to explain we don't have enough space we still got a box full of delicious food.
But it was time to leave, way to soon for that matter but the rest of the Silk Road is waiting and days pass by too quickly.
We hopped on the ferry to Kavala. After one night of sleep we decided to go for it and try to enter the Turkish border.
What do you think? Did we manage to enter?
Love, Milene & Yuri