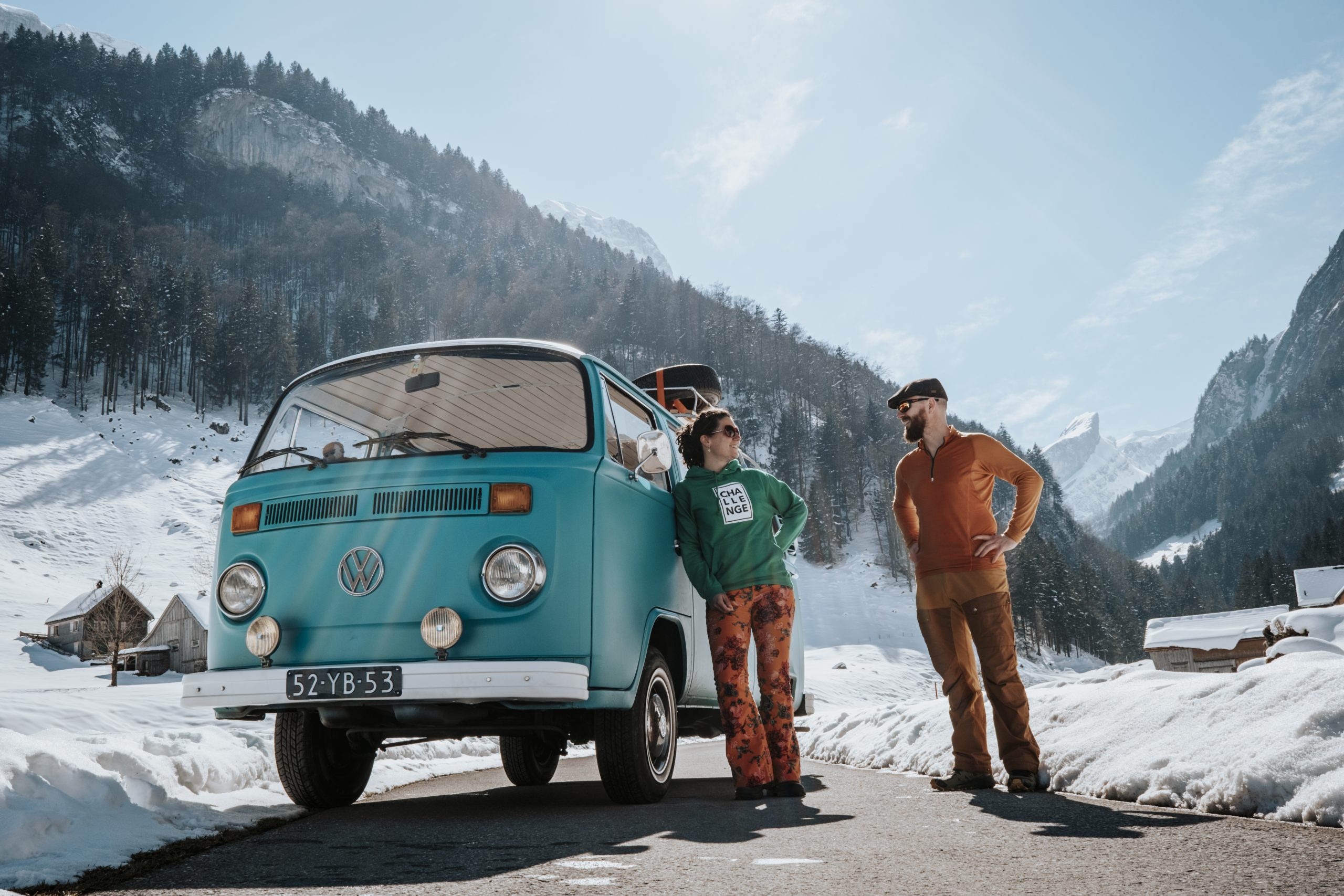 After two nights in the cold, many steps in the snow and nothing but bread and pizza it was time to leave Germany and it's corona restrictions behind and head for another country and hopefully some sun. After visiting the Hohenzaller Castle we travelled all the way south to Switzerland. I write all the way but it wasn't that far really. However, the road to the border wasn't that great. We took the highway instead of the lovely winding roads through the Black Forest. Mainly because our toes were frozen again, secondly we wanted to reach Appenzell before nightfall.
Border crossing
Crossing a border in Europe isn't really a big deal. Most of the time you won't notice you crossed a border except for minor things like; when you cross the border from The Netherlands into Belgium you suddenly drive on bad tarmac and when you drive from The Netherlands into Germany suddenly everyone knows where the accelerator is located and well when you arrive in Great Britain you suddenly have to drive on the other side of the road and pay with Pounds. Then there are the differences in gasoline prices, license plates and landscape. But that's about it.
However, like Great Britain, Switzerland is a different border crossing. Switzerland isn't part of the European Union. Which means that there is an actual border control. We decided to skip the toll roads and cross the border via a small town. Turning the corner suddenly there was a border control post, it almost felt like a checkpoint. And in sense it was actually a checkpoint. Anyway, they asked us what we were going to do in Switzerland, where we are from and made a copy of our passports before letting us enter yet another country on our trip.
We're in Switzerland!
It has been a very long time since I've been this excited crossing a border in Europe. And it went smoothly, luckily for us. The thing with the corona virus is that every country has it's own regulations, and it's own rules in terms of tourism, border crossings and travelling. For some countries you need a PCR test, in some countries you are only allowed to transit (which means you have to get out within 24 to 72 hours) and there are countries that welcome tourists like kings because no tourism means no income.
In Switzerland one needs a PCR test to enter and the regulations are that shops are open, so are hotels. But restaurants and bars are closed, well they are open for take-away and hotel guests. After two nights in the cold we were craving for a hot shower so we booked a B&B in Appenzell. And yeah, Switzerland is expensive so is our stay here but well.. luxury has a price.
Appenzell
Appenzell is a town in northeastern Switzerland, at the foot of the Alpstein mountains – or as the Swiss call it: the pre-Alps. Appenzell has a very cute car-free centre featuring wooden houses with colourful facades. They have a brewery, some cute little shops and market places. Near Appenzell you can hike the nice mountains, visit lakes and enjoy the amazing views.
Hiking Ebenalp
We stayed here because we wanted to hike the Ebenalp and visit the Wildkirchli, a cave complex housing a 17th century chapel and hermitage. Unfortunately for us we couldn't visit the Wildkirchli due to snow but we did visit Ebenalp and actually had a snowshoe hike on the mountain top – 1644 meters above sea level.
We took the cable car up from Wasserauen (868 metres above sea level) to Ebenal (1644 meters above sea level). It took us about five minutes to get up. The cable car was built in 1955 and in a normal year it will transport about 200.000 visitors every year!
Above we got our snowshoes, which are free to use, and went on a short hike. We thought it would be a bit longer but it was quite a short hike actually, which was a pity. But it did take us to beautiful spots with amazing views. To be honest, I'm not a winter sport person and prefer these mountains in summer or autumn time. However, seeing the mountains covered in snow, while the rocks and trees show their tops through the tick whiteness is quite impressive. To have a real good hike over here and actually visit the Wildkirchli we have to come back in August in whatever year.
After having a beer at the top of the Ebenalp we went down again, tried to walk to a lake but heard lots of avalanches and decided it was not our time to die yet, so returned to Appenzell for a pizza and an early night in our warm hotel room.
Love, Milene & Yuri